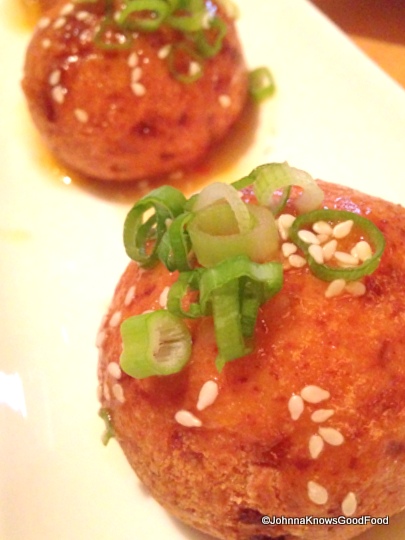 Zengo's Test Kitchen is one my fave pastimes in the District.  It gives diners a chance to travel around the world without traveling around the world.  Having spent a considerable amount of time in China in 2008, it was nice to revisit some of the scents and flavors that I came to know via my palate.  Because Zengo is known for infusing its dishes with Latin flavors, Brazil joined the Test Kitchen with China.  Brazil to China would be an exhausting and probably daunting trek if done in one trip but a dinner taking you from one end to the other is like music to your mouth.  Chimachurri and Char Sui Pork Belly within the realm of one another is not found around these parts.
I'll save you the details of my dinner because I want you to choose the dish that works for you i.e. your not going to appreciate the way I felt about the pork if you do not indulge in the other white meat.  You will, however, find that Zengo's Test Kitchen is one of these DC events that you will want to tune into regularly.  If you are like me, then you will, especially where your passport has no intentions of getting stamped anytime soon…
*Zengo's Brazil to China Test Kitchen ends on September 30, 2014.
Category: restaurant reviews, Reviews, Washington D.C.
Johnna French is a Harlem NY native with deep roots in Panama, Washington, DC and North Carolina. All four places have heavily influenced her life and the foods she loves today. After graduating Howard University School of Law and beginning her life as a young professional in the city she was led to start Johnna Knows Good Food in November 2007 to keep family, friends and colleagues updated on where to go and what to eat while dining in the nation's capitol. French, who still practices law, leads a team of three writers to cover the ever expanding Washington, DC food scene. French has been featured in print and television, appearing in Washingtonian Magazine and is a regular contributor to various local TV affiliates including WUSA 9, FOX 5 DC and WJLA (ABC Affiliate) News Channel 8. During the 2016-2017 football season, Johnna aired on Comcast Sports Mid-Atlantic (CSN) show, Redskins Life, as the weekly tailgate host. Johnna is currently a regular contributor to the FOX Baltimore Weekend morning show.
---