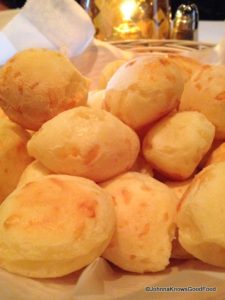 If you are like me, then you will likely be here during the World Cup games instead of basking in all the beauty that is Brasil.  This is one of the reasons I love the District because you may not be able to jump on a plane to an exotic location but you can still dine in all the flavors of that location.  The Grill from Ipanema is one of those places that you will pass a thousand times in the District and wonder what they are serving up in there.  Named after Anthonio Carlos Jobin and Vinicius de Moraes Grammy Award winning song "The Girl from Ipanema", I could not help but sing the song in my head as I entered the restaurant.  Dimly lit offering an intimate dining experience, the Grill is one of those places that welcomes the new but definitely has its resident regulars.  The Brazilian fare is the reason this place has stuck around these parts for 22 years.  What did I love?
 Paozinho de queijo, which is the famous Brazilian cheese bread made with tapioca and gluten free bread.  The same way you can consume your favorite potato chips in one sitting is the way I feel about this cheese bread.  Get your own basket!
Bolinho de bacalhau is simply cod fish croquettes.  Another bite size menu item that will force you to eat more than your normal serving.  Crispy and packing in Brazilian flavors, you will want your own order of these too.
Tapioca with casquinha de siri is the Brazilian use of the yuca served pancake style with crab meat.  Paired with a few of my favorite things i.e. olive oil, garlic, tomato, cilantro and onion, these yuca pancakes are the perfect place to start your Brasil dining journey at the Grill.
Category: restaurant reviews, Washington D.C.
Johnna French is a Harlem NY native with deep roots in Panama, Washington, DC and North Carolina. All four places have heavily influenced her life and the foods she loves today. After graduating Howard University School of Law and beginning her life as a young professional in the city she was led to start Johnna Knows Good Food in November 2007 to keep family, friends and colleagues updated on where to go and what to eat while dining in the nation's capitol. French, who still practices law, leads a team of three writers to cover the ever expanding Washington, DC food scene. French has been featured in print and television, appearing in Washingtonian Magazine and is a regular contributor to various local TV affiliates including WUSA 9, FOX 5 DC and WJLA (ABC Affiliate) News Channel 8. During the 2016-2017 football season, Johnna aired on Comcast Sports Mid-Atlantic (CSN) show, Redskins Life, as the weekly tailgate host. Johnna is currently a regular contributor to the FOX Baltimore Weekend morning show.
---