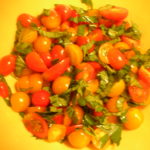 Instead of my typical Etiquette Tuesday post, I decided to switch it up today for "Good Deed Tuesday".  This will be my weekly outreach to all of you encouraging you to get involved!  This week, I encourage you all to check out the efforts of S.E.A.R. and see how you can help.
Miriam's Kitchen has formed an alliance with a team of the foremost experts in Washington's culinary and hospitality sectors. Together, the members of the Strategic Effort to Allocate Resources (S.E.A.R.) initiative will collaborate on how to leverage industry leadership and a shared sense of hospitality to assist Miriam's Kitchen in their meals program and overall mission to end chronic homelessness in D.C. by 2017.
To formally kick off the initiative, Miriam's Kitchen announced the S.E.A.R. leadership council inaugural members::
Chef Erik Bruner-Yang, Toki Underground
Chef Jonathan Copeland, Ghibellina
Andrew Davidson, Park Hyatt
Gus DeMillo, Passion Food Group
Neil Dundee, Edens/Union Market
Fred Herrmann, Matchbox Food Group
Kathy Hollinger, Restaurant Association of Metropolitan Washington
Jennifer Motruk Loy, Farmers Restaurant Group 
Scott Mowrey, Vucurevich Simons Advisory Group
As a first order of business, S.E.A.R. participants will focus on identifying the many unseen ways in which the restaurant and hospitality industries are impacted by homelessness. These insights will guide strategies by which S.E.A.R. members and the greater food community can strengthen Miriam's Kitchen's meals program.  Council participants have committed to one-year terms, which will include participating in volunteer efforts and/or in-kind donations and meals sponsorships, as well as recruitment efforts to enlist new partners into the effort to support Miriam's Kitchen's mission to end chronic homelessness in D.C. Furthermore, S.E.A.R. members will work to educate peers on the real facts behind homelessness in D.C., including the economic benefits of Housing First as a proven solution for addressing chronic homelessness.
Category: Announcements, Washington D.C.
Johnna French is a Harlem NY native with deep roots in Panama, Washington, DC and North Carolina. All four places have heavily influenced her life and the foods she loves today. After graduating Howard University School of Law and beginning her life as a young professional in the city she was led to start Johnna Knows Good Food in November 2007 to keep family, friends and colleagues updated on where to go and what to eat while dining in the nation's capitol. French, who still practices law, leads a team of three writers to cover the ever expanding Washington, DC food scene. French has been featured in print and television, appearing in Washingtonian Magazine and is a regular contributor to various local TV affiliates including WUSA 9, FOX 5 DC and WJLA (ABC Affiliate) News Channel 8. During the 2016-2017 football season, Johnna aired on Comcast Sports Mid-Atlantic (CSN) show, Redskins Life, as the weekly tailgate host. Johnna is currently a regular contributor to the FOX Baltimore Weekend morning show.
---