Finding Jardenea on a cold, winter night was a bit of a challenge but once I landed in the right place, I now see why it's tucked away.  A hidden gem in the District, Jardenea houses all of the components necessary for a cozy night in the District.  Dim, discreet and of course, good food.  Executive Chef Nate Lindsay approaches the table with a humbleness that's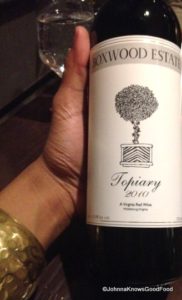 refreshing especially where he is serving up some of best in this town.  Let us start with the grits, for instance, which are served purple in color and taste like your grandma's Sunday morning breakfast special versus a restaurant in the midst of Foggy Bottom DC.  Chef Lindsay knows what he's doing.
The wine program, led by William Rabil, is impressive and extensive as well where it is stocked with some of my favorites including Boxwood Winery.  No need to tell you where the night went after we dipped into the restaurants private selection of reds, but I can tell you they line up well beside the Jardenea menu.  Boasting local and seasonal flavors with their "Farm to Fork" concept, Jardenea takes on the opposite approach when pairing their dishes.  The restaurant centers their menu around the seasonal ingredient versus deciding on the seasonal ingredient based on the meat/poultry.
Having visited tons of hotels and tasting enough bad room service food, it is refreshing to know that Jardenea serves the same fresh ingredients to guests staying in the hotel who order room service.  Fresh, homemade pasta from my king size hotel bed after a night out in the District??  A staycation may be in the works for yours truly.
Category: restaurant reviews, Reviews, Washington D.C.
Johnna French is a Harlem NY native with deep roots in Panama, Washington, DC and North Carolina. All four places have heavily influenced her life and the foods she loves today. After graduating Howard University School of Law and beginning her life as a young professional in the city she was led to start Johnna Knows Good Food in November 2007 to keep family, friends and colleagues updated on where to go and what to eat while dining in the nation's capitol. French, who still practices law, leads a team of three writers to cover the ever expanding Washington, DC food scene. French has been featured in print and television, appearing in Washingtonian Magazine and is a regular contributor to various local TV affiliates including WUSA 9, FOX 5 DC and WJLA (ABC Affiliate) News Channel 8. During the 2016-2017 football season, Johnna aired on Comcast Sports Mid-Atlantic (CSN) show, Redskins Life, as the weekly tailgate host. Johnna is currently a regular contributor to the FOX Baltimore Weekend morning show.
---