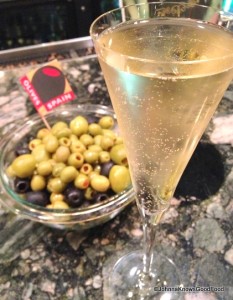 The Season for Olives!  Chef Aaron McCloud already had a knack for creating out-of-the-box dishes at Cedar Restaurant in D.C. but now the Spanish inter-professional table olives organization, Olives from Spain, has given him more reason to expand outside the norm.  Olives from Spain has chosen eight U.S. chefs to highlight Spanish olives on their fall menus and Chef McCloud was chosen to show how non-Spanish chefs can incorporate Spanish table olives into their recipes.  I tilt my hat to Chef McCloud; he stepped up to the challenge by incorporating the versatile delicacy into everything from my first course salad to dessert.
Olives are easy to compound into dishes such as salad and as an addition to your favorite martini, but when you add it to wild game that is when things can get tricky.  Chef McCloud, who was a child prodigy by the age of 4, clearly solved the riddle with his Wild Boar Loin Stuffed with Spanish Gordal Olives.  Accentuating this dish with the perfect amount of herbs and salt was clearly the key because the olives provided the flavor that would usually be supplemented by salt.
His work with the finale dish, Black Olive Eggless Custard, was perhaps the most surprising in flavor, texture and substance to me.  Why?  At the beginning of the meal, I asked the experts at the table what are some other uses for black olives.  They are so bland.  Chef McCloud cleared this up with a dessert that substituted my least favorite of the food chain, raisins, with the succulent taste of the black olive.  Imagine the possibilities:  black olives implemented into a chocolate chip cookie.  This is where I drop the mic and leave the stage because this is unheard of around these parts.
Chef McCloud's menu hits all the flavor points of the Spanish Olive in whatever style you want it served.  If you have not visited Cedar Restaurant yet, then this is definitely a reason to check into the Penn Quarter establishment.  Besides the wild game and olives combination, not many can say they have visited the kitchen of a child prodigy around the District.  Learn something new!
Category: Food.Fun.Stuff., restaurant reviews, Washington D.C.
Johnna French is a Harlem NY native with deep roots in Panama, Washington, DC and North Carolina. All four places have heavily influenced her life and the foods she loves today. After graduating Howard University School of Law and beginning her life as a young professional in the city she was led to start Johnna Knows Good Food in November 2007 to keep family, friends and colleagues updated on where to go and what to eat while dining in the nation's capitol. French, who still practices law, leads a team of three writers to cover the ever expanding Washington, DC food scene. French has been featured in print and television, appearing in Washingtonian Magazine and is a regular contributor to various local TV affiliates including WUSA 9, FOX 5 DC and WJLA (ABC Affiliate) News Channel 8. During the 2016-2017 football season, Johnna aired on Comcast Sports Mid-Atlantic (CSN) show, Redskins Life, as the weekly tailgate host. Johnna is currently a regular contributor to the FOX Baltimore Weekend morning show.
---