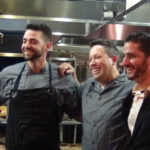 Top Chef Mike Isabella brings his skills to Washington, DC. Kapnos is a new Greek restaurant located in the downtown DC area. Beautifully decorated and conveniently located in town, patrons are able to sample several plates and get the feeling of sitting on a pier overlooking the clear blue waters in Greece. I love the openness of the restaurant. I was able to sit at the bar and watch all of my food being prepared. This is something that is always appreciated. It also allows you to personally see the art and technique it takes to prepare the beautiful dishes. It is a great place to go for a variety of spreads and other selections of small dishes. They also have a grab and go option for those who do not have time to sit and eat. If you are looking to grab a quick bite for lunch or dinner to take home, Kapnos has what you need. If you happen to pop-in during happy hour, try their wide variety of specialty drinks.  Take a look below at a few of the dishes below.  I definitely walked away pleased!
Kapnos
2201 14th St, NW
Washington, DC 20009
www.kapnosdc.com
Category: Alcoholic beverages, Announcements, appetizers, Food.Fun.Stuff.
---