Steak and frites equal a "meh" response when yours truly is invited out to feast on the traditional French pair.  Steak and frites, however, when prepared by Chef Spike Mendelsohn, get the total curiosity stare when one is invited on a Friday night to taste the hearty dish.  A torrential downpour was coming down in the District at about 5 pm inhibiting my walking to catch my train at Union Station but I was prepared to click Uber if this was going to stand in between me and Chef Spike's newest creation.  Béarnaise takes up the old space of Thai Roma on the same block with its other sister restaurants, Good Stuff Eatery and We, the Pizza.  Joining a family of restaurants that are already winning the Capital Hill popularity contest, Béarnaise is going to only help those numbers continue to rise.
Let's get right to it:  The steak was the tender, medium blend that prevented my knife and fork from fighting with the 8 oz. flat-iron Steak Maison for a piece.  All of the steaks are served with your choice of sauce:  Béarnaise Maison, Spicy Béarnaise, Au Poivre, Bordelaise and Maitre D'Hotel Butter.  Sticking to the basics, I chose the Béarnaise Maison and the creamy sauce topped the steak the way whipped cream goes over your favorite ice cream:  a divine combination.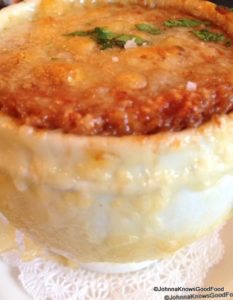 The menu at Béarnaise is Prix Fixe, which includes a French baguette, your choice of a first and second course alongside one of the steak sauces and unlimited fries.  I will warn you right now, you will not make it to round two with those fries unless you are prepping to compete on Man vs. Food.  The first course options are the house salad, the French Onion Soup and the seasonal soup of the day.  With the rain, a long day of working and the ping-pong match of the early morning Metro, this was a French Onion soup kind of day for yours truly.  A thick casing of cheese covering a fluffy bed of soaked bread was all I needed to forget the days turmoil.  This onion soup gave my new fave in the city, Le Diplomates onion soup gratineé, a real run for its money.
If you have an inch of room for side dishes, I suggest sharing them with the table.  The portions are more than fair and considering the unlimited fries, I honestly do not know the person who could scoff them down alone.  The Brussels with bacon and béarnaise and the roasted portabella mushrooms are the true show stoppers of the side dishes and they link well with the flavors of the steak.  The Tartiflette (*Grantineed Potatoes) is the "meh" of the sides, which you should only try if you are having an insane craving for potatoes where the fries will not suffice.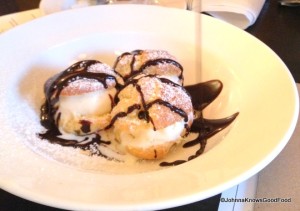 Dessert wrapped things up with a bright highlighter pen over the Profiteroles filled with French vanilla ice cream maison, drizzled with warm homemade chocolate sauce.  Passion for your mouth!  Not a sweets fanatic as you know (*if you read regularly…), but this dessert could finalize most of my nights.
Béarnaise is open for business.  From the first looks of things, the restaurant will be following closely in the foot steps of its sisters…get your reservations in now.
*315 Pennsylvania Ave SE
Washington, DC 20003 
Category: Announcements, restaurant reviews, Washington D.C.
Johnna French is a Harlem NY native with deep roots in Panama, Washington, DC and North Carolina. All four places have heavily influenced her life and the foods she loves today. After graduating Howard University School of Law and beginning her life as a young professional in the city she was led to start Johnna Knows Good Food in November 2007 to keep family, friends and colleagues updated on where to go and what to eat while dining in the nation's capitol. French, who still practices law, leads a team of three writers to cover the ever expanding Washington, DC food scene. French has been featured in print and television, appearing in Washingtonian Magazine and is a regular contributor to various local TV affiliates including WUSA 9, FOX 5 DC and WJLA (ABC Affiliate) News Channel 8. During the 2016-2017 football season, Johnna aired on Comcast Sports Mid-Atlantic (CSN) show, Redskins Life, as the weekly tailgate host. Johnna is currently a regular contributor to the FOX Baltimore Weekend morning show.
---