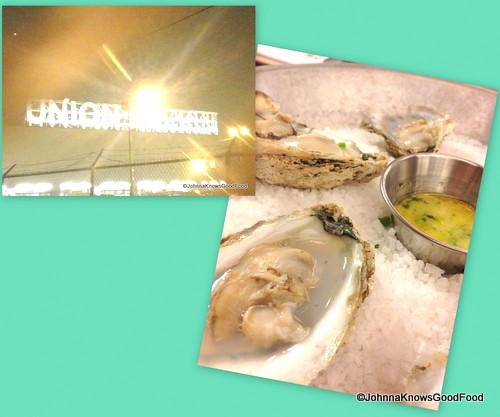 There is a place in this town where you can actually sit down during happy hour.  Unreal, yes?  No, Union Market came in just in the nick of time.  If billable hours were attached to happy hour, the average Washingtonian would collect a nifty bonus every year.  It provides a sweet ending to a long day in the office.  A recent visit to Union Market gave me that renewed feeling for happy hour that I was beginning to lose due to overcrowded bar spaces and lackluster food.  Union Market features a happy hour robust with the flavors of Rappahannock oysters, Righteous Cheese and Takorean.
In need of an oyster fix, I ordered the raw and grilled oysters alongside the champagne infused cocktail of the evening.  Just what the doctor ordered:  buttery flavor, without the briny aftermath.  I slurped each one down like it was my last and moved on to the lump crab cakes.  These crab cakes were literally the size of my head.  No joke.  Though I would have appreciated larger chunks of crab meat, the freshly sautéed crab cakes did not disappoint in flavor with a medley of fresh herbs and a creamy, remoulade as the finishing touch.  For under $50, I left full of oysters, crab cake and couple of cocktails filled with bubbly.  That makes a happy lady.
Category: Food.Fun.Stuff., restaurant reviews, Washington D.C.
Johnna French is a Harlem NY native with deep roots in Panama, Washington, DC and North Carolina. All four places have heavily influenced her life and the foods she loves today. After graduating Howard University School of Law and beginning her life as a young professional in the city she was led to start Johnna Knows Good Food in November 2007 to keep family, friends and colleagues updated on where to go and what to eat while dining in the nation's capitol. French, who still practices law, leads a team of three writers to cover the ever expanding Washington, DC food scene. French has been featured in print and television, appearing in Washingtonian Magazine and is a regular contributor to various local TV affiliates including WUSA 9, FOX 5 DC and WJLA (ABC Affiliate) News Channel 8. During the 2016-2017 football season, Johnna aired on Comcast Sports Mid-Atlantic (CSN) show, Redskins Life, as the weekly tailgate host. Johnna is currently a regular contributor to the FOX Baltimore Weekend morning show.
---