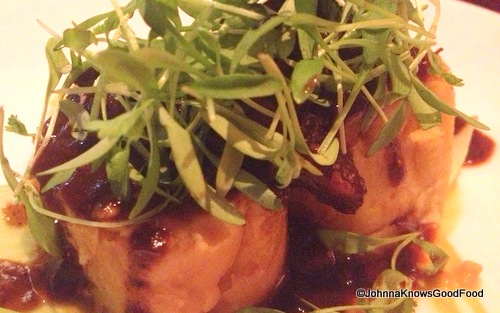 Today ends the last full month of winter.  Since seasonal depression rains on me during the winter months, I am not only excited to see February ushered out but to welcome March, the month of Spring and let's not forget about March Madness.  With spring means new menus, new festivals and new focus in the District.  My focus this spring is where to travel next on my bucket list of journeys.  Since my finances are speaking to more of a staycation at this hour, I welcomed the opportunity to check out Zengo's Argentina-Philippines menu from their monthly test kitchen.  If I cannot make it to South America and Asia, I might as well dine in the culture, yes??
The Guava Mate was the first greeter of the evening with a strong mix of gin, guava, yerba mate and lime.  The Filipino Lumpia Spring Rolls and Oxtail Humitas followed up with the latter fancying my palate more with Argentinian Tamale, peanut sauce, tamarino and coconut milk.  The Rolls lacked the robust flavors of Pilipino cuisine leaving a taste of your typical spring rolls.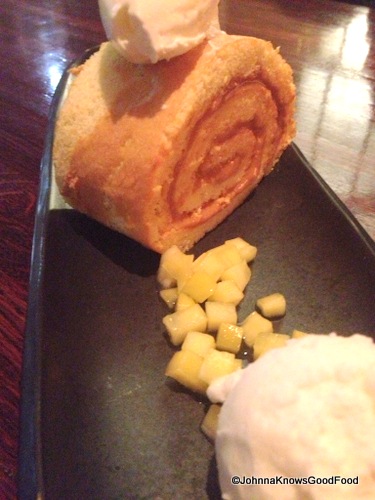 The Bacolod Filipino BBQ chicken was true to its description where "they marinate the chicken overnight" and it literally fell off the bone sizzling with lemongrass-Chile flavors.  The Tagalog style churrasco steak was my second favorite of the night dipped in a calamansi citrus-soy marinade and served medium.  Dessert wrapped things up with the Dulce De Leche Brazo Mercedes, which is where I and my guest parted ways in opinions.  They frowned at it, I loved it!  I thought it was sweet enough to fulfill my sugar cravings at the end of several savory courses while it did not overwhelm me with the Dulce de Leche flavor.  The Green Mango ceviche was a nice touch to the final edition.
As spring floats in and winter rushes out, I am elated to return to the dining scene.  After hibernating much of the winter, it makes me smile at the thought of diverse flavors emerging in the DC dining scene without me having to book a flight across the world.  Until I pull that passport out again, destination Zengo's monthly Test Kitchen sounds like a plan.
Category: Food.Fun.Stuff., restaurant reviews
Johnna French is a Harlem NY native with deep roots in Panama, Washington, DC and North Carolina. All four places have heavily influenced her life and the foods she loves today. After graduating Howard University School of Law and beginning her life as a young professional in the city she was led to start Johnna Knows Good Food in November 2007 to keep family, friends and colleagues updated on where to go and what to eat while dining in the nation's capitol. French, who still practices law, leads a team of three writers to cover the ever expanding Washington, DC food scene. French has been featured in print and television, appearing in Washingtonian Magazine and is a regular contributor to various local TV affiliates including WUSA 9, FOX 5 DC and WJLA (ABC Affiliate) News Channel 8. During the 2016-2017 football season, Johnna aired on Comcast Sports Mid-Atlantic (CSN) show, Redskins Life, as the weekly tailgate host. Johnna is currently a regular contributor to the FOX Baltimore Weekend morning show.
---