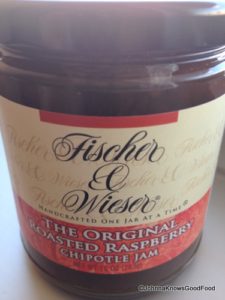 This winter I look forward to having more small gatherings and entertaining in my home.  This new-found interest has taken on a life of its own and I have begun scouting out the menus.  The one thing I look forward to beginning many of these food gatherings with is a cheese tray.  Not your average cheese tray, however, one filled with all kinds of trinkets.  When Fischer & Wieser sent me a jar of their Original Roasted Raspberry Chipotle Jam, a light bulb went off in my head:  I am going to play around with exotic jam flavors and pair them with my favorite cheeses.  Not as out of the box as this project will become, but this is a good start.
As soon as I released the cap, the spicy Chipotle aroma came spilling out.  As you know, I am not the biggest fan of sweets so my first taste of the Chipotle Jam let me know this would be a winner.  The jam was a balance of 70% Chipotle peppers, a smoky flavor, garlic and vinegar, while the remaining 30% was sugar and raspberries.  It was the epitome of what a savory jam should consist of with the focus on the spice factor versus giving you a sugar high.  For sugar lovers, it is enough to fancy your palate where the raspberries and sugar play a strong undertone for the peppers.
My first tray will consist of warm brie, crackers and this Chipotle Jam.  What would you put on yours?
Category: Announcements, finger-foods, Food.Fun.Stuff., sweets
Johnna French is a Harlem NY native with deep roots in Panama, Washington, DC and North Carolina. All four places have heavily influenced her life and the foods she loves today. After graduating Howard University School of Law and beginning her life as a young professional in the city she was led to start Johnna Knows Good Food in November 2007 to keep family, friends and colleagues updated on where to go and what to eat while dining in the nation's capitol. French, who still practices law, leads a team of three writers to cover the ever expanding Washington, DC food scene. French has been featured in print and television, appearing in Washingtonian Magazine and is a regular contributor to various local TV affiliates including WUSA 9, FOX 5 DC and WJLA (ABC Affiliate) News Channel 8. During the 2016-2017 football season, Johnna aired on Comcast Sports Mid-Atlantic (CSN) show, Redskins Life, as the weekly tailgate host. Johnna is currently a regular contributor to the FOX Baltimore Weekend morning show.
---