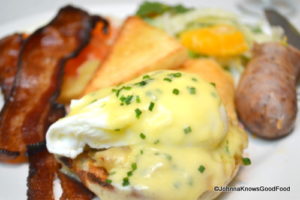 Occasionally, my readers will submit reviews of restaurants they visit and this month I decided to share what one reader had to say about The Hamilton, one of my fave new restaurants.
Just some quick and dirty notes about The Hamilton:
Getting In
I went yesterday for the 12:30 show with Jacques Johnson.  Booking the tickets on line was easy and the reminder email was helpful with exceptions noted below.
The reminder e-mail said that doors open at 12:00.  Since we were a party of 8, we arrived promptly at 12:00 so that we could sit together. We waited in line outside for 40 MINUTES.  It was nice out, but 40 MINUTES?  A little disappointing.
More Lines:  So once we got in the door, guests immediately lined up for the main buffet—a long line of about 30-40 people. There was a long line at the bar and omelet and waffle stations.  I managed to snag some ham and brisket while I waited 30 minutes for the lines to die down.  I recommend that they let about 25 people in every 5-10 minutes until showtime to avoid this.
The Venue/Entertainment 
Seating was plentiful and it is acoustically AWESOME.  There was only one bad table in the audience which was blocked by a beam.  They should bring up the lights while guests are getting their food because it was very dark.  The sound was just loud enough so you could have a conversation without yelling.  Jacques Johnson and friends were good and the audience seemed thouroughly entertained.
The FOOD
The food was excellent!  All the Cajun and Creole dishes e.g. shrimp and grits, dirty rice, gumbo packed a nice punch and tasted freshly made.  The ham and brisket were succulent and well seasoned.  The fried chicken was well-seasoned, crisp, and juicy inside.  The biscuits tasted home-baked.  The desserts were not extremely decadent, which was fine for this type of stick-to-your ribs buffet.  They had strawberry cream puffs (my fave!!), cinnamon pecan rolls (just a little chewy), rice crispy treats, and chocolate nut cookies.  All were freshly baked.  And if you are a friend of the pig, there was bacon, ham, and sausage. Most of the main dishes and sides had pork—dirty rice, gumbo, shrimp and grits, collard greens, sausage gravy.  I like pork so no problem for me.
My only recommendation is that they have small bowls for the gumbo (and make sure that the spoon is not slotted) and that if they are going to do a smoked salmon set up (egg, capers, red onion) that they at least serve it with toast points or mini bagels.  Cream cheese would be nice too.
Service
The used plates and glasses were removed promptly. Food was replenished regularly so we never felt like we were scraping from the bottom of the tray.
We not only took advantage of the free mimosa that came with our meal, we also ordered from drinks from the bar.  There was only one bartender serving so the lines were long and for us, since we were actually paying for our drinks, this was a little irritating.  Also, the food labels had been knocked down or were not existent so you could hear people frequently asking "What is this?"
Will I Return?
Being a native Washingtonian, The Clydes Group restaurants are always reliable (good food, good prices, good times).   My ticket was $25.00 so in the grander scheme of things, other than wasting 40 minutes standing in line and having to chow down in an hour and a half, it was worth the visit.  I will definitely give it another chance and hopefully by then they will have worked the kinks out.
Category: Announcements, Food.Fun.Stuff., restaurant reviews, Washington D.C.
Johnna French is a Harlem NY native with deep roots in Panama, Washington, DC and North Carolina. All four places have heavily influenced her life and the foods she loves today. After graduating Howard University School of Law and beginning her life as a young professional in the city she was led to start Johnna Knows Good Food in November 2007 to keep family, friends and colleagues updated on where to go and what to eat while dining in the nation's capitol. French, who still practices law, leads a team of three writers to cover the ever expanding Washington, DC food scene. French has been featured in print and television, appearing in Washingtonian Magazine and is a regular contributor to various local TV affiliates including WUSA 9, FOX 5 DC and WJLA (ABC Affiliate) News Channel 8. During the 2016-2017 football season, Johnna aired on Comcast Sports Mid-Atlantic (CSN) show, Redskins Life, as the weekly tailgate host. Johnna is currently a regular contributor to the FOX Baltimore Weekend morning show.
---