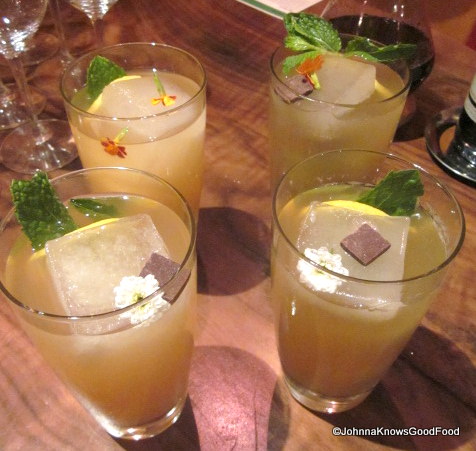 Last Tuesday, organic chocolate crafters,
Taza Chocolate
, teamed up with Oyamel Cocina Mexicana to debut a new summer cocktail and share a bit about their new holiday line. Guests at the reception could enjoy a cool class of "High Tea", a spiked chamomile tea flavored with honey syrup, lemon juice, and chocolate-infused ice cubes.  Guests were also treated to Oyamel's signature guacamole along with their savory chicken and pork tacos, warm huitlacoche blue corn truffles, and their refreshing jicama fruit salad.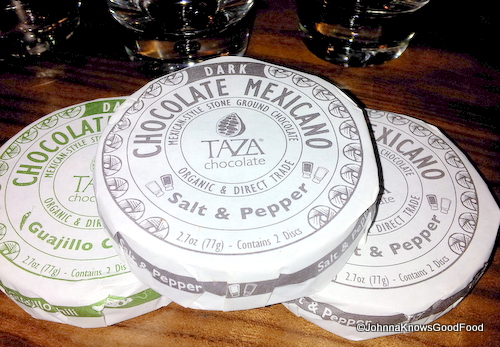 Taza founder Alex Whitmore chatted with me about their stone-ground chocolate, which he called a "niche product".  He founded the company in 2005 after being inspired by his trip to Oaxaca, Mexico where he noticed that milling was central to the natives' food-making process.  The full-flavored chocolate is crafted at their modest factory in Somerville, Massachusetts where chocolate fanatics can enjoy a tour of the facility.  
Summary:
 Their holiday line, which features a gingerbread-flavored chocolate, is delectable.
Category: Announcements, Food.Fun.Stuff., sweets, Washington D.C.
Johnna French is a Harlem NY native with deep roots in Panama, Washington, DC and North Carolina. All four places have heavily influenced her life and the foods she loves today. After graduating Howard University School of Law and beginning her life as a young professional in the city she was led to start Johnna Knows Good Food in November 2007 to keep family, friends and colleagues updated on where to go and what to eat while dining in the nation's capitol. French, who still practices law, leads a team of three writers to cover the ever expanding Washington, DC food scene. French has been featured in print and television, appearing in Washingtonian Magazine and is a regular contributor to various local TV affiliates including WUSA 9, FOX 5 DC and WJLA (ABC Affiliate) News Channel 8. During the 2016-2017 football season, Johnna aired on Comcast Sports Mid-Atlantic (CSN) show, Redskins Life, as the weekly tailgate host. Johnna is currently a regular contributor to the FOX Baltimore Weekend morning show.
---