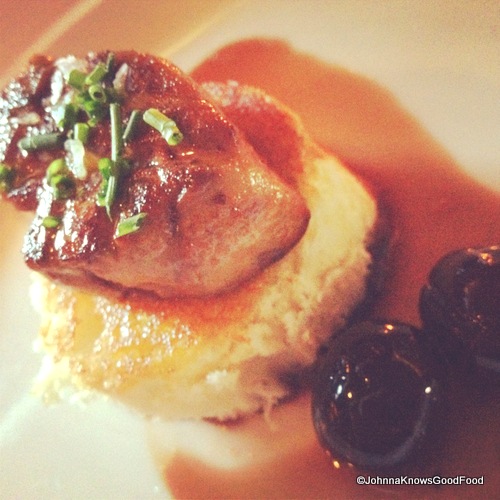 There are a few restaurants in D.C. that have this mysterious allure to them simply because they maintain a low key décor with incredible buzz that never seems to die.  Bar Pilar is one of those places in the District that has garnered attention for its consistently fulfilling and ever-changing brunch menu.  My anticipation was at its max when I visited for the opening of the second floor of the restaurant.  As small and intimate as the first floor is, I am almost positive that I would still be waiting on a table for Sunday brunch the way I am still waiting for a table at Toki Underground.  The second floor is a welcome addition.
So let me tell you why Bar Pilar is one of my new faves in the District: Besides the fact that they care enough about their cocktails where they have imported a $2,000 ice machine into the place to cut perfectly shaved circles of ice, they have created the very first cocktail periodic table.  For the brainiac that also likes a good one on the rocks after work, your senses are not only tantalized by the craftsmanship put into the Fashion de Cuba (*Bulleit Bourbon Whiskey, Guarapo, couple dashes of Orange Bitters, orange peel and mint sprigs) or The Ruffled Shirt (*named simply after the shirt of choice for that day, the ingredients include Saint Germaine, Sparkling Wine, Angostura bitters and garnished with an orange twist) but the numerous Hemingway quotes around the menu will give you a slight chuckle.
The cocktails at Bar Pilar are worth the trip alone but the food is the reason I have fallen fast for this spot.  Chef Justin Bittner has a knack for surprising the palate with unusual combinations.  Bringing savory and sweet onto one plate can be a challenge if you do not understand how cherries would muster against foie gras on one plate.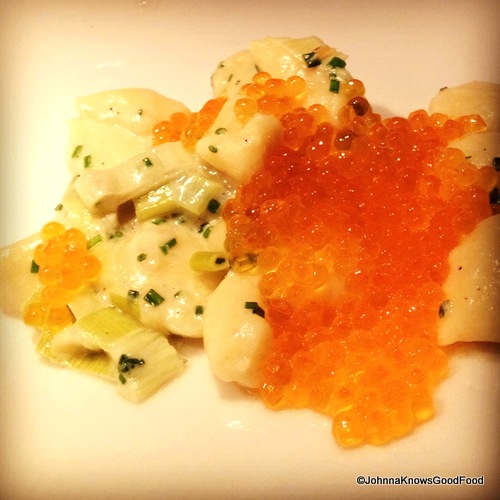 Chef Bittner has revolutionized the menu into one that takes plenty of risks without much fuss in the kitchen.  After a seven plus course meal at Bar Pilar, I walked home, not only thinking about my next visit, but thinking about the many quotes I had picked up throughout the evening, one in particular I will leave all you writers out there with:  "Write drunk, edit sober" –Ernest Hemingway.
Category: Food.Fun.Stuff., restaurant reviews, Washington D.C.
Johnna French is a Harlem NY native with deep roots in Panama, Washington, DC and North Carolina. All four places have heavily influenced her life and the foods she loves today. After graduating Howard University School of Law and beginning her life as a young professional in the city she was led to start Johnna Knows Good Food in November 2007 to keep family, friends and colleagues updated on where to go and what to eat while dining in the nation's capitol. French, who still practices law, leads a team of three writers to cover the ever expanding Washington, DC food scene. French has been featured in print and television, appearing in Washingtonian Magazine and is a regular contributor to various local TV affiliates including WUSA 9, FOX 5 DC and WJLA (ABC Affiliate) News Channel 8. During the 2016-2017 football season, Johnna aired on Comcast Sports Mid-Atlantic (CSN) show, Redskins Life, as the weekly tailgate host. Johnna is currently a regular contributor to the FOX Baltimore Weekend morning show.
---