1. It has been a worldwind of events in the past few weeks and JKGF has morphed into a completely new life of its own.  Recently we joined forces with Lisa Shapiro, of Dining in DC, Lauren DeSantis, of The Capital Cooking Show and Mary Kong, of Girl Meets Food, to form 4Bitten Media.  What a birth?? Already we have managed to take up every ounce of free time (*including sleeptime) to create an acclaimed blog collective.  I am beat down and elated all in one!  Follow us here to see where we're going with the new @4BittenMedia.
2. This must be the winning month for yours truly because I also received the Judges Pick for the Best Meatballs at the Great Grapes Wine Festival.  I had some stiff competition with Gina Scaccio, food blogger and Jamie Hardin, writer for DC Examiner Organic, who each brought their A-game.  Gina began with a cooking demo and Jamie took our palates on a trip to Ethiopia with kitfo meatballs wrapped in injera.  I took the traditional route with a homemade tomato sauce topping my meatballs but I added my winning secret ingredient: bacon, it makes everything better.  Leaving pleased and full, I settled in the grass with Girl Meets Food for a celebratory drink.  Cheers to a great weekend!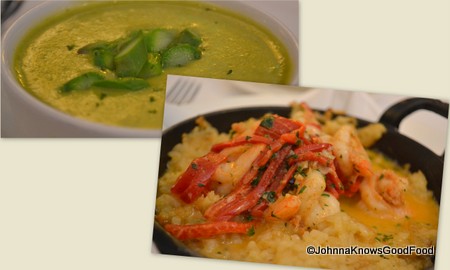 3. A few weeks ago I visited The Capital Grille for a look at their new lunch menu.  Typically, I am not a fan of the chain restaurant scene but visiting the Capital Grille is always a fun experience for me especially because of the service.  The last time I visited they had added some seasonal vegetables, but this time they took it a step further with these miniature shrimp paella dishes alongside this seasons fresh veggies.
Category: Announcements, Food.Fun.Stuff., Washington D.C.
Johnna French is a Harlem NY native with deep roots in Panama, Washington, DC and North Carolina. All four places have heavily influenced her life and the foods she loves today. After graduating Howard University School of Law and beginning her life as a young professional in the city she was led to start Johnna Knows Good Food in November 2007 to keep family, friends and colleagues updated on where to go and what to eat while dining in the nation's capitol. French, who still practices law, leads a team of three writers to cover the ever expanding Washington, DC food scene. French has been featured in print and television, appearing in Washingtonian Magazine and is a regular contributor to various local TV affiliates including WUSA 9, FOX 5 DC and WJLA (ABC Affiliate) News Channel 8. During the 2016-2017 football season, Johnna aired on Comcast Sports Mid-Atlantic (CSN) show, Redskins Life, as the weekly tailgate host. Johnna is currently a regular contributor to the FOX Baltimore Weekend morning show.
---