Heading to Adams Morgan on any given night can be a pain for me especially when it involves dining out. The scarce parking is the major issue which is why when Capital Cooking invited me to join her at Zabb's Modern Asian Restaurant, I was excited for her company but dreading the travel time. Lucky for me I snagged a parking space and began searching for my destination. After heading up to Florida Avenue and realizing the restaurant was not there, noting that Lauriol was crowded as usual, I spotted Zabb's across from Lauriol Plaza.
If you're new to D.C restaurants then let me tell you about Lauriol Plaza: everyone raves about the food here and you usually end up here for some type of group dinner, happy hour or date if you spend enough time in D.C. Because of the crowd and mass appeal this place has garnered it's kind of hard to notice that they are other places on the block with comparable food and prices, which is why I was relieved to find Zabb's.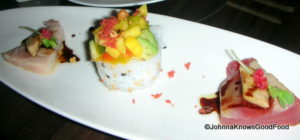 Zabb's menu is an array of sushi, salads and soups served on small plates at reasonable prices (*$2.99-$24.99). Dimly lit and intimate were my first impressions making me believe this should be the scene of my next date night. I appreciate the fact that Zabb's was not afraid to play with their sushi menu and offered a healthy dose of lobster roll options (*I love lobster. Absolutely love it.). After trying the Lobster Monster Roll, preceded by the Tom Kha, I am absolutely positive I will return. Crispy shrimp, cucumber and asparagus would not usually attract my attention when shooting for authentic sushi but when its paired with avocado, a juicy lobster claw and topped in Asian pesto, chili and apple eel sauce, my rules head out the window.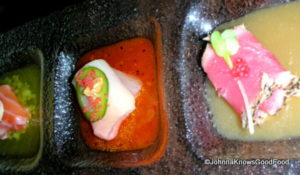 Leaving impressed and a bit ashamed that I had never even seen this spot, Zabb's has the staying power that is absolutely necessary when your facing a spot like Lauriol Plaza. Though the two serve two totally different cuisines, I say use the spaces interchangeably: grab a Margarita across the street for happy hour and avoid the two hour wait for a table by crossing the street and taking in a relaxing meal at Zabb's…
Category: restaurant reviews, Washington D.C.
Johnna French is a Harlem NY native with deep roots in Panama, Washington, DC and North Carolina. All four places have heavily influenced her life and the foods she loves today. After graduating Howard University School of Law and beginning her life as a young professional in the city she was led to start Johnna Knows Good Food in November 2007 to keep family, friends and colleagues updated on where to go and what to eat while dining in the nation's capitol. French, who still practices law, leads a team of three writers to cover the ever expanding Washington, DC food scene. French has been featured in print and television, appearing in Washingtonian Magazine and is a regular contributor to various local TV affiliates including WUSA 9, FOX 5 DC and WJLA (ABC Affiliate) News Channel 8. During the 2016-2017 football season, Johnna aired on Comcast Sports Mid-Atlantic (CSN) show, Redskins Life, as the weekly tailgate host. Johnna is currently a regular contributor to the FOX Baltimore Weekend morning show.
---