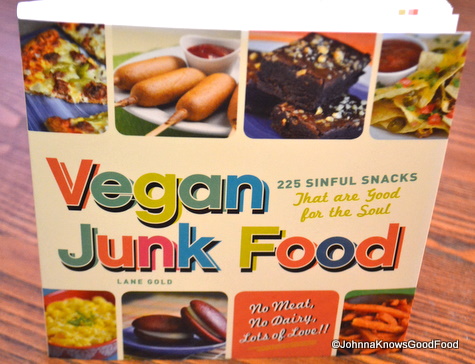 The Vegan diet has become increasingly popular over the past few years.  When I say popular I mean about one in every third person is converting over to the non-dairy and non-animal product diet.  Dating back to the 1940's, veganism is not a new concept but seems new when you are trying to imagine recipes without many of the common food resources we use today.  I have talked to numerous people interested in transitioning into the vegan diet but are afraid of what they will miss and what they will not have access to during the diet change.  This is the major reason I welcomed the opportunity to review Vegan Junk Food by Lane Gold.
Curious to see if I could even mentally convert for a few hours, I discovered a whole new world.  The Vegan lifestyle is not as scary as it may seem to those who often retort with the "I can't go that far" or "I won't be able to eat anything".  Vegan Junk Food features recipes for Loaded Nachos, Spinach Artichoke Dip, Meatball Pizza with Peppers and Onions, Mac and Cheese Bake, Meatball Sandwiches, White Raspberry Cheesecake and the list goes on and on.  Honestly, this cookbook has better recipes then some of the cookbooks loaded with dairy and other animal products.
The cookbook took the right approach by presenting over 225 junk foods in vegan form that would lure even the most carnivorous eater to never touch another animal product.  The recipes are intriguing because they feature all the goodness that you are used to with the animal products but you are totally substituting.  Thinking about converting? You might want to start here.
Category: Food.Fun.Stuff., health concious, Various Cooking Styles
Johnna French is a Harlem NY native with deep roots in Panama, Washington, DC and North Carolina. All four places have heavily influenced her life and the foods she loves today. After graduating Howard University School of Law and beginning her life as a young professional in the city she was led to start Johnna Knows Good Food in November 2007 to keep family, friends and colleagues updated on where to go and what to eat while dining in the nation's capitol. French, who still practices law, leads a team of three writers to cover the ever expanding Washington, DC food scene. French has been featured in print and television, appearing in Washingtonian Magazine and is a regular contributor to various local TV affiliates including WUSA 9, FOX 5 DC and WJLA (ABC Affiliate) News Channel 8. During the 2016-2017 football season, Johnna aired on Comcast Sports Mid-Atlantic (CSN) show, Redskins Life, as the weekly tailgate host. Johnna is currently a regular contributor to the FOX Baltimore Weekend morning show.
---