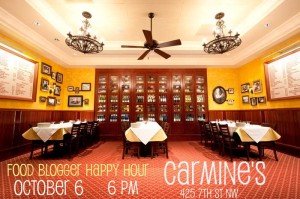 The first time I visited Carmine's was with Mum and she just raved about this place.  She talked about the calamari and the spaghetti and the portions.  Of course, the thought of large portions of not only food, but good food, raised my antenna to the ceiling.  I had to go.  Unfortunately for me, the next time I would stick my fork in one of these large Carmine's dishes would be when I returned home to New York.  Lucky for me, the District strikes again…we have a Carmine's of our very own.  *Smiles*  Now I am no fan of chains but this may be one of the very, very few exceptions to my rule.  Carmine's DC has not strayed away from the authentic Italian flare of its New York mother restaurant.  Tiramisu for days, heaping piles of large spaghetti strings and sausage stuffed mushrooms that almost made me order two servings…
The DC Food Bloggers are taking it home this month…well home for me anyway.  Carmine's is the designated location on October 6, 2010 from 6 pm-8 pm.  Thanks to Lisa Shapiro of Dining In DC for hosting this months happy hour.  More Info on the event here.
Category: Announcements, Food.Fun.Stuff., Washington D.C.
Johnna French is a Harlem NY native with deep roots in Panama, Washington, DC and North Carolina. All four places have heavily influenced her life and the foods she loves today. After graduating Howard University School of Law and beginning her life as a young professional in the city she was led to start Johnna Knows Good Food in November 2007 to keep family, friends and colleagues updated on where to go and what to eat while dining in the nation's capitol. French, who still practices law, leads a team of three writers to cover the ever expanding Washington, DC food scene. French has been featured in print and television, appearing in Washingtonian Magazine and is a regular contributor to various local TV affiliates including WUSA 9, FOX 5 DC and WJLA (ABC Affiliate) News Channel 8. During the 2016-2017 football season, Johnna aired on Comcast Sports Mid-Atlantic (CSN) show, Redskins Life, as the weekly tailgate host. Johnna is currently a regular contributor to the FOX Baltimore Weekend morning show.
---