I suppose I should start from the beginning. Seven years ago, I had the chance of a lifetime to travel to Taiwan on a fully expense paid trip with a guest. I did not go. Why?? I had won the opportunity through a raffle and the only catch to redeeming the prize was that I had to be present at the time of the drawing. I was not there to accept the prize and almost had a kanipshin when I found out what had happened.
Seven years later is proof of God's grace. The opportunity presented itself again and this one came fully loaded and equipped with a true look into the heart of Taiwan. Over the past several days, I have laughed, remained curious and fallen in love with a land over 7,000 miles away from my home. Taiwan is a true gem and I must have known this in 2012 when I sat on my couch feeling defeated that I might not have the opportunity to observe it for my self. What is all the raving about this island? Let me tell you a little something about Taipei, Taiwan and how you can have an experience of a lifetime with as little as 48 hours.
Quick history lesson: Taiwan, also known as The Republic of China (ROC), is located in the West Pacific between Japan and the Philippines. It is about 36 Kilometers making it about the size of Maryland. The ROC was founded in 1912 in China and at that time Taiwan was under Japanese colonial rule. The ROC began to exercise jurisdiction over Taiwan in 1945 after Japan surrendered at the end of World War II. Both Chinese and Japanese cultural influences are heavily present in Taiwan.
Lodging
Palais de Chine: Centrally located in Taipei City, Palais de Chine is a jewel in the city. The staff, accommodations and dim lighting make it a cozy oasis to rest your weary soles after a day of sightseeing. During the coronavirus crisis, the hotel paid careful attention to ensuring that their guest were safe by taking temps of each person upon arrival and endless hand sanitizing equipment. It felt like a home away from home versus another isolating hotel experience.
To See: Ok, so you're all checked in. Time to hit these Taipei streets!
The Presidential Office Building: A must see with exhibitions Power to the People and Tell Me What You See, which take you down a history lesson of Taiwanese government.
National Palace Museum: Rich in heritage and exhibits, the National Palace Museum is one of the beauties of Taiwanese culture. Home to Taiwan's beloved Jadeite Cabbage and Goreyo Ceramics, the Museum gives you an in-depth look into the island's history. Also, not a bad spot for those selfies (*do it for the 'Gram).
Beitou: Home to the Beitou Public Library, Green Building (first library structure to be built on the eco-architectural concept) and The Beitou Hot Springs Museum. Hot Springs are an experience not to be missed in Taiwan even if it only includes you dipping your toes in to get some of that "youthful" sulfur (*rumor has it the hot springs are supposed to make you look and feel 10 years younger). See more details below on the Hot Springs experience.
Pinglin Tea Museum: You cannot come to Taiwan and not talk about tea. They go together like peanut butter and jelly. The history lesson on how tea is grown, processed and delivered to the consumer is intriguing but not as much as actually watching a Taiwanese native show you how tea should be made and served. Tea should only be steeped for a minute in piping hot water, any longer increases the bitterness in flavor. I learned a little somethin', somethin' guys!
Yangmingshan Mountain: After all the food I am going to tell you about, a nature walk should be in the plans. Not only is Yangmingshan absolutely beautiful, it is quite a challenging hike (*If you do a full trail hike, you will basically have climbed to the top of Taipei 101). Be sure to see the flower clock, the botanics will make you want to tap into your green thumb. End the tour with a visit to one of the many Hot Springs located on the route headed back to central Taipei City.
Taiwan Tech Arena: As a leader in the world tech industry, Taiwan has created Futureward Central, which is more than a co-working space. There are tons of opportunities for students, entrepreneurs and anyone else with a great idea in the tech industry to pitch, build and grow in their business from this multifunction space. Catch a show in the Arena, which is known for having entertainers from around the world (Billie Eilish heads there August 28).
i-Ride: After visiting the Tech Arena, you might want to get into some of this technology. The i-Ride is a fun stop especially if you want to get an overview of what to explore in Taiwan. The simulated flying experience takes you everywhere from Taipei 101 to Dabajian Mountain to Sun Moon Lake.
*A little note about the Hot Springs and how it works. I was clueless, but it basically works like this:
*The Springs are divided into Public and Private with the Public being divided into Male and Female. You are full throttle naked in both spaces unless it is Public co-ed Spring where you wear swimsuits. Divided up by heat temperatures, you can choose to sit in the steaming (and I mean piping hot) Spring, the medium hot (reminds me of a typical jacuzzi temperature) and semi-ice cold (unbelievable how this actually works perfect after all that heat). You have to shower before and after use of the Springs and there is absolutely no picture taking, hence the reason JKGF has no pictures of this experience. I can only relay through words and I say it. is. worth. it.

Food/Eating/Feasting/Supper/Sipping/HappyHour
The. Food. This is a culture that eats! From start to finish, food was found every two steps of the way, you will not go hungry in Taiwan, especially in Taipei City. With food reasonably priced and ranging from street food to Michelin three-stars, you can have your pick. Most of the food is Chinese and Japanese influenced but with so many variations and dishes, it is hard to get bored with the flavors.
Din Tai Fung Dumpling House, Taipei 101 Branch should be your first stop on a trip to Taipei. This is the original location and the pristine attention to dumpling making will leave you with a craving that you might not shake (*at least I could not). The chefs are trained for three years on dumpling making and re-trained every six months to ensure their skills are up to par. If that type of schooling doesn't convince you this is serious business, I don't know what will.
Dragon Restaurant, CanTonese Cuisine & DimSum (TEL: (02) 2563-9293 or (02) 2796-3623): This is hands down the best roasted duck JKGF had in Taiwan. Served perfectly crisp to touch and bite, this version of roast duck is the poster child of what this dish is supposed to exude.
The Grand Hotel Taipei has its name right. Palacial in appearance and feel, you feel grand just walking up the regal red staircase. Catch a glimpse of the dignitaries who have graced these hallways and you will understand how important this hotel is in history, not only to Taipei, but the world (*Nelson Mandela, Bill Clinton, Margaret Thatcher are just few past visitors). Grab a drink during happy hour (two for one, woot!) and people watch from the lobby bar area.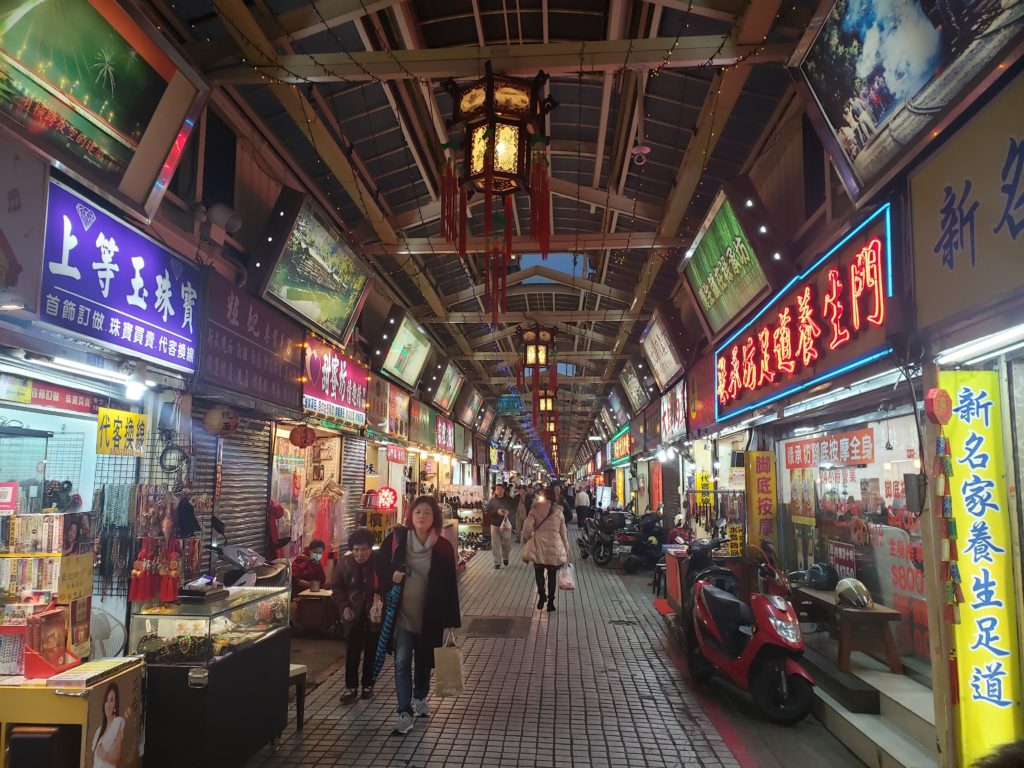 The Shilin Night Market and Huaxi St. Night Market are a must for traditional Taiwanese street food. Add the stinky tofu (*smells terrible but is a tasty lil' thing) to your adventurous food list. The markets are also good spots to nab souvenirs for cheap.
Le Palais. This place has three Michelin stars, which means I do not have to tell you anything else about the quality of this food. What I will tell you is it left me speechless after some of the most delicately matched cabbage to bamboo soup and a deep-fried Cheese Pastry, which is basically where New Orleans beignets and fried ravioli come to together to birth the most delicious love child.
Bitter Burro is a cozy spot for a nightcap. The only caveat is they do not serve wine, only cocktails. You will find that Taiwan is not a wine destination, beer and cocktails rule. My theory is because of the spices and flavors, you need IPA to level out those elements.
Taipei is a dynamic city. The range of activities for families, solo travelers and even groups of friends is broad. Choose your vibe and the city will take care of the rest.
*To see more of JKGF adventures in Taiwan, please check out our YouTube Channel here. See a clip from our Taiwan series below.
Category: Reviews, Travels, World Tour
Johnna French is a Harlem NY native with deep roots in Panama, Washington, DC and North Carolina. All four places have heavily influenced her life and the foods she loves today. After graduating Howard University School of Law and beginning her life as a young professional in the city she was led to start Johnna Knows Good Food in November 2007 to keep family, friends and colleagues updated on where to go and what to eat while dining in the nation's capitol. French, who still practices law, leads a team of three writers to cover the ever expanding Washington, DC food scene. French has been featured in print and television, appearing in Washingtonian Magazine and is a regular contributor to various local TV affiliates including WUSA 9, FOX 5 DC and WJLA (ABC Affiliate) News Channel 8. During the 2016-2017 football season, Johnna aired on Comcast Sports Mid-Atlantic (CSN) show, Redskins Life, as the weekly tailgate host. Johnna is currently a regular contributor to the FOX Baltimore Weekend morning show.
---