The fall season always ushers in lots of activity. With more than enough reasons to celebrate with the multiple holidays, the last thing I want to do is add in more reasons to stay in the kitchen versus spending more time with the fam. This is also one of the best times of year for sports spectators. With football season in full gear, game day watch parties are popping up all over the place including casa de yours truly. I love a good day of watching the games, noshing on random snacks and the adrenaline rush of those final minutes in a close game. What I don't like is spending all day preparing those snacks.
I am the shortcut queen! If there is a quicker, easier way to get to good quality food, I am on it. This season, I am falling for Curly's BBQ Ribs (you can find this in the refrigerated meat case at your local grocery store). It is no secret that I like Curly's products because they considerably cut down my actual cooking time and boost my fun time with my squad. It seems like each year, however, I discover a new way to incorporate one of their pre-prepped dishes into something new. This year, I am feeling the quirky, grilled cheese movement. Have you ever thought about Ribs Grilled Cheese?? I had not, but now it is on the brain and here is what I did to make it a Johnna game day spread classic.
Johnna's BBQ Ribs Grilled Cheese
1 18oz. loaf of potato bread
4 oz. softened butter
1 package Curly's Baby Back Pork Ribs
1 6oz. package of smoked Gouda cheese (thinly sliced)
1 8oz. package of sliced cheddar cheese
2 tbsp. pickled jalapenos (chopped)
4 oz. butter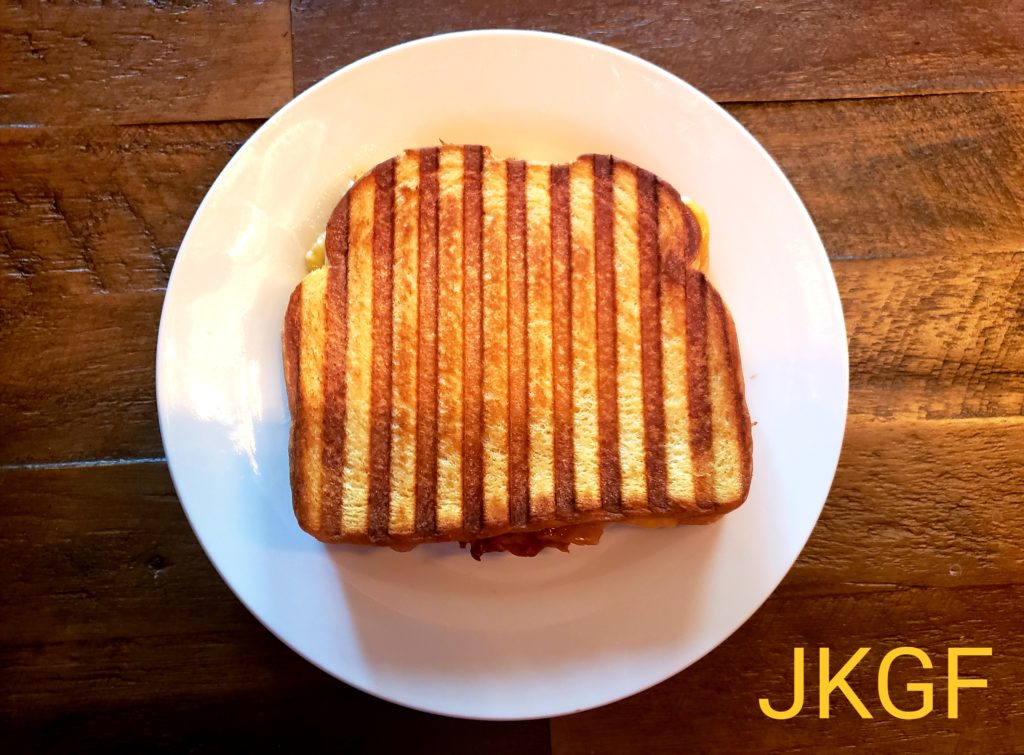 Butter both sides of all of your slices of bread. Top one slice of the bread with the smoked Gouda cheese, Curly's BBQ Ribs meat, 1 tsp. of the jalapenos, cheddar cheese and another slice of bread. Repeat with the remaining ingredients and set aside. Heat a cast iron skillet, Panini maker or non-stick skillet with remaining butter. Add in sandwiches and grill on both sides until golden brown and cheese has melted, about 2-3 minutes. Serve immediately.
*Johnna's Tip: Not ready to serve them? Keep them in the oven on your "warm" setting and serve later.
*Johnna's Tip, Tip: Want even more fun flavor? Add about an ounce of beer to your pickled jalapenos and let them marinate for an hour to soak up some of that flavor. In the alternative, definitely serve these grilled cheese goodies with your favorite lager.
Category: appetizers, finger-foods, grilled, Lunch, main dish, Recipes
Johnna French is a Harlem NY native with deep roots in Panama, Washington, DC and North Carolina. All four places have heavily influenced her life and the foods she loves today. After graduating Howard University School of Law and beginning her life as a young professional in the city she was led to start Johnna Knows Good Food in November 2007 to keep family, friends and colleagues updated on where to go and what to eat while dining in the nation's capitol. French, who still practices law, leads a team of three writers to cover the ever expanding Washington, DC food scene. French has been featured in print and television, appearing in Washingtonian Magazine and is a regular contributor to various local TV affiliates including WUSA 9, FOX 5 DC and WJLA (ABC Affiliate) News Channel 8. During the 2016-2017 football season, Johnna aired on Comcast Sports Mid-Atlantic (CSN) show, Redskins Life, as the weekly tailgate host. Johnna is currently a regular contributor to the FOX Baltimore Weekend morning show.
---