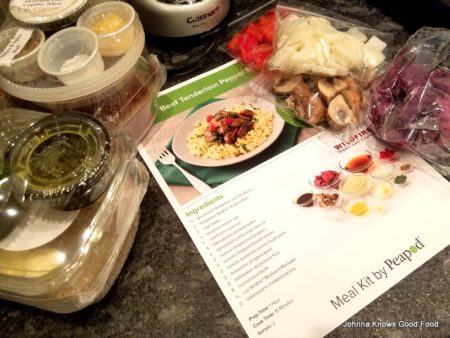 Anything to make a weeknight meal easier and homemade is right up my alley.  When I got wind of Wildfire partnering with Peapod, I jumped on the opportunity to try out their new chef-inspired meal kits.  Boasting restaurant quality ingredients and recipes, the new meal kit wants you to have option of dining out while dining in.  I like where they are going with this especially where many companies are launching meal kits that lack in flavor.
It is no secret that Wildfire is one of my fave steakhouses in the Tysons Corner region, so I was excited to see how their Beef Tenderloin with Couscous would fair in my kitchen.  The meal kit arrived with all the usual suspects that you would expect from a meal kit delivery service:  everything perfectly measured out down to the olive oil.  The recipe was simple enough:  marinate the steak tips with Wildfire's Backyard Marinade overnight or for an hour, sear in a pan, adding in the various other ingredients along the way i.e. mushrooms, garlic and Spanish onions.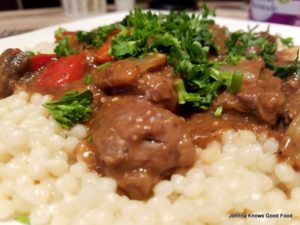 The marinade was my biggest obstacle and only issue with this meal kit.  I totally forgot to marinate the meat and when it was time to cook it, I just wanted to get the party started.  For someone with a busy schedule, marinating anything the night before or even an hour before cooking time could be problematic.  The positive, however, with this recipe was after I threw the marinade on at the 11th hour, it was still an extremely flavorful dish.  It left me wondering "Dang, what would have happened if I had taken the night before to marinate this?!"…
Should you try this out?  Yes, especially if you are into meal delivery services.  It is definitely the quickest meal I have ever prepared using one of these services.  The cook time says 15 minutes, which is pretty accurate (took me about 20-25 minutes).  Homemade, done in 20 minutes and professional chef quality?  Sign me up, please.
Category: Announcements, Product Review, Reviews, Various Cooking Styles
Johnna French is a Harlem NY native with deep roots in Panama, Washington, DC and North Carolina. All four places have heavily influenced her life and the foods she loves today. After graduating Howard University School of Law and beginning her life as a young professional in the city she was led to start Johnna Knows Good Food in November 2007 to keep family, friends and colleagues updated on where to go and what to eat while dining in the nation's capitol. French, who still practices law, leads a team of three writers to cover the ever expanding Washington, DC food scene. French has been featured in print and television, appearing in Washingtonian Magazine and is a regular contributor to various local TV affiliates including WUSA 9, FOX 5 DC and WJLA (ABC Affiliate) News Channel 8. During the 2016-2017 football season, Johnna aired on Comcast Sports Mid-Atlantic (CSN) show, Redskins Life, as the weekly tailgate host. Johnna is currently a regular contributor to the FOX Baltimore Weekend morning show.
---