Bowling alleys have certainly changed from the musty carpet and Cheese Whiz nachos that were served when I used to frequent these spots.  I recently had the opportunity to visit the newly opened Pinstripes Bistro-Bowling-Bocce in Bethesda and was pleasantly surprised by not only the décor but the food.  The food was flavorful and the options were limitless.  Who would have thought you could find gourmet sliders, craft beer & sleek bowling lanes all in the same space?!  With the openings of places like Lucky Strike and Pinstripes, bowling has returned to the epicenter of date night.
The usual suspects found on the American casual dining menu are no different here:  spinach and artichoke dip, crispy calamari, etc.
I opted to skip all of this and try the pizza, my best friend in date night food.  The Margherita made the cut with hand crafted dough that was baked in Pinstripes wood-burning pizza oven and topped with fresh mozzarella and basil.  Typically, I like a thinner crust, but Pinstripes Margherita pizza dough could lead to an addiction with its slightly sweet taste packed in piping hot slices.  I would recommend trying one of the pizzas as a starter alongside the Tenderloin Sliders (these are safe for the pickiest of eaters).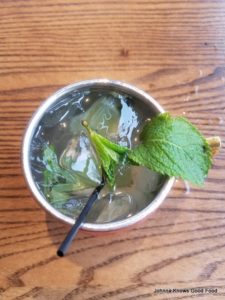 The cocktails are perfect for the sugar fiend.  After trying the Margarita Italiano, which I liked in theory, I had to take a step back from the sugar rush of Don Julio Silver Tequila, Limoncello (they make in-house), sour mix and the splash of pomegranate.  This, however, was the perfect drink for my date companions because they are attracted to sugar infested cocktails.  I moved on to The Mule, which was smart.  The Mule is made up of Tito's Vodka, Fever Tree Ginger Beer, fresh mint and lime.  Light and refreshing without losing sight of the main attraction, which is the alcohol, The Mule is a go-to if you prefer drinks that add a little hair to your chest.
The bowling rounded out the night.  A little friendly competition helped to burn off those calories acquired during dinner.  The prices are competitive at $15/hour/person (Friday & Saturday, 4 pm-close).  For those that do not live in the D.C. area, this is extremely reasonable where some of the "trendier" bowling alleys will charge you upwards of $75 even if it is only two guests.  For those that are looking to step outside the norm completely, Pinstripes also offers bocce, which is the perfect sport if you plan to imbibe all night.  Rumor has it, the more you drink, the better you are at bocce.
Date night can become monotonous if dinner and a movie is your go-to activity.  Shake things up a bit and add in some bowling or bocce.  Date night just got better.

Category: Al Fresco Dining, MD, restaurant reviews, Reviews, VA, Washington D.C.
Johnna French is a Harlem NY native with deep roots in Panama, Washington, DC and North Carolina. All four places have heavily influenced her life and the foods she loves today. After graduating Howard University School of Law and beginning her life as a young professional in the city she was led to start Johnna Knows Good Food in November 2007 to keep family, friends and colleagues updated on where to go and what to eat while dining in the nation's capitol. French, who still practices law, leads a team of three writers to cover the ever expanding Washington, DC food scene. French has been featured in print and television, appearing in Washingtonian Magazine and is a regular contributor to various local TV affiliates including WUSA 9, FOX 5 DC and WJLA (ABC Affiliate) News Channel 8. During the 2016-2017 football season, Johnna aired on Comcast Sports Mid-Atlantic (CSN) show, Redskins Life, as the weekly tailgate host. Johnna is currently a regular contributor to the FOX Baltimore Weekend morning show.
---