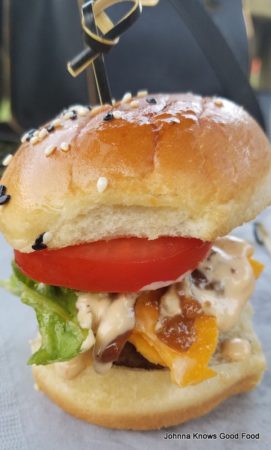 From Potowmack Landing and more recently as Indigo Landing, 1 Marina Drive in Alexandria, VA has once again revamped their operations and now we have Triple Craft, a causal dining experience that focuses on delivering good craft burgers, craft beers and craft shakes, hence the name.  JKGF had the opportunity to attend a special soft opening and sample items from the menu.
We spent the afternoon on the patio, watching flights land and take off while waiters brought unlimited amounts of burgers and sides for us to devour.  Burger after burger we sampled each specialty burger that is offered on the menu, from the Farmhouse to the Sweet and Smokey, each burger was delectable. The waiters followed up by bringing fried pickles and chicken tenders, all while we enjoyed a broad variety of wines and craft beers.
Next on the menu was the milkshakes, we sampled two spiked shakes and one of the non-alcoholic shakes.  As I am writing this, a spiked shake would be fab right now.  Because they will be featuring a burger and shake of the month, along with live music on certain days, I will definitely return this summer.  #Summer17 is looking brighter and tastier everyday.
Category: restaurant reviews, Reviews, VA, Washington D.C.
Talisha is from the Washington Metropolitan area. A lover of food, she enjoys a variety of cuisines. In addition to attempting to eat at every restaurant around the beltway, she enjoys International traveling, baking and spending time with her better half.
---