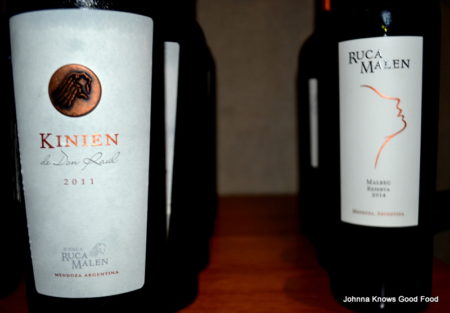 French business partners Jean Pierre Thibaud and Jacques Louis de Montalembert, alongside Argentine winemaker Pablo Cuneo, have brought the flavors of Mendoza to the District.  Their boutique winery, Bodega Ruca Malen, recently gave the District a taste of their signature Malbec at Rural Society, located inside the Loews Madison Hotel.  The Yauquen Malbec 2014, which I like to refer to as the "New Chanel Bag", is 100% Malbec that highlights the best attributes of the red fruit.  Paired with the Agnolotti de Provoleta (Pictured) (Provoleta stuffed dumplings) with chorizo ragu, the soft tannins allowed you to appreciate the hint of spice found in the dish.
The Ruca Malen Reserva Malbec 2014 was even better than the first having aged 12 months in oak barrels.  I call this the "Vintage Chanel Bag".  Why the Chanel references?  Chanel bags make superior quality products similar to what I found in Ruca Malen wines.  The taste and quality were superb and only got better with time and their accompanying dishes.  The Humita (a sweet corn tamale and Sardo cheese), for example, still resonates with my palate all these days later since our initial meeting.  Paired with the "Vintage Chanel" aka Ruca Malen Reserva Malbec 2014, the acidity balanced against the creamy cheese.
New wine and new location to enjoy the wine.  Chef Louis Goral truly tapped into the products and cooking techniques used by the natives who were guardians of the land at the foot of the Andes Mountains.  Who knew this type of cooking was going on at the corner of 15th and good?!
Find out where you can get it around these parts here.
Category: Product Review, restaurant reviews, Reviews, Washington D.C.
Johnna French is a Harlem NY native with deep roots in Panama, Washington, DC and North Carolina. All four places have heavily influenced her life and the foods she loves today. After graduating Howard University School of Law and beginning her life as a young professional in the city she was led to start Johnna Knows Good Food in November 2007 to keep family, friends and colleagues updated on where to go and what to eat while dining in the nation's capitol. French, who still practices law, leads a team of three writers to cover the ever expanding Washington, DC food scene. French has been featured in print and television, appearing in Washingtonian Magazine and is a regular contributor to various local TV affiliates including WUSA 9, FOX 5 DC and WJLA (ABC Affiliate) News Channel 8. During the 2016-2017 football season, Johnna aired on Comcast Sports Mid-Atlantic (CSN) show, Redskins Life, as the weekly tailgate host. Johnna is currently a regular contributor to the FOX Baltimore Weekend morning show.
---