Getting out of the District these days can be a challenge if your resources are limited.  Money, time off from work and travel companions all weigh into the planning process.  Recently, I needed a BREAK.  Searching the map much like Prince Akeem in Coming to America, I scoured quick getaways that would not empty the bank.  Annapolis, Maryland made the cut.  Why?  Annapolis is one of those places that are close to downtown Washington (30 miles), quaint in architecture and enough history to keep your mind racing for a quick weekend trip.  Two days away was all I needed and on this Saturday morning, I packed up the car for an overnight trek to Annapolis.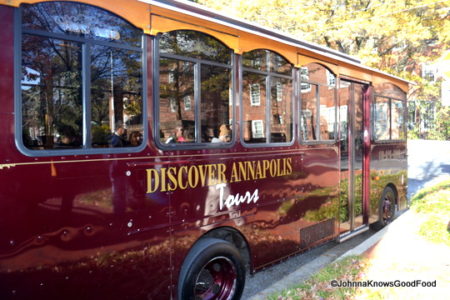 The best way to get a full visual of a city for me is to take a broad tour of the scene, which is why Discover Annapolis Tours came in handy.  They offer a Trolley Tour that takes you around the town to see everything from the William Paca House and Garden, home of the Declaration of Independence signer, to the Banneker-Douglass Museum.  Annapolis is small so this hour-long tour will give you just the overview you will need to explore the area independently.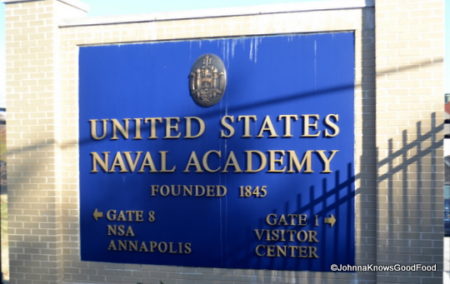 Talking about Annapolis without talking about the Naval Academy is like talking about Washington and not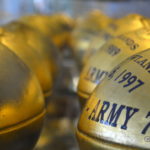 acknowledging the Capitol, you cannot do one without the other.  I learned this early on during my visit, the U.S. Naval Academy is the towns pride and joy.  Rightfully so, the Naval Academy is a site for sore eyes:  Bancroft Hall's pristine rotunda, the Midshipmen in uniform and a Wall of Fame that makes you wonder why Army comes back every year for such a beating.  The deep history of preparing young men and women for the U.S. Naval Officer and Marine Corps is embedded in each and every corner of this campus.  The school prides itself on excellence and exudes it through the numerous accolades that could take you days and weeks to learn all of it.
After a day of taking in history lessons, one needs to relax and be entertained.  Rams Head on Stage is one of three sister venues in the DC area that is located in Annapolis.  Much like the Hamilton Live in Washington, DC, Rams Head on Stage is an excellent place to see live performances.  Why?  Because every seat in the house is a good seat!  I love venues where there is table service and I do not have to squint to see whoever I came to see perform.  Seeing Suede in concert at Rams Head was a special treat, not only because of her sultry voice, but the acoustics were the equivalent of a 9:30 Club experience (*if you have not seen a show at the 9:30 Club in D.C., you need to run to the next event).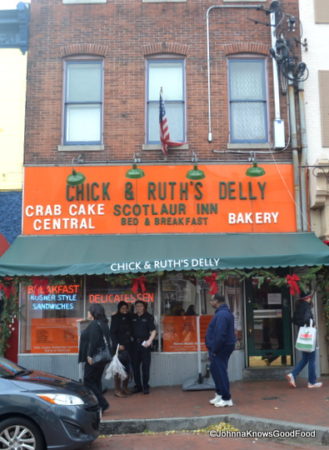 I would be remiss if I did not tell you about the food.  The food!  Annapolis has some good food.  Where should I start??  Breakfast at Chick & Ruth's Delly should not be skipped.  Breakfast is the most important meal of the day and they
make it a priority here.  Crab omelets the size of my head, crab cakes the size of my head and corned beef hash (because you know how I love my corned beef hash JKGF readers!), Chick & Ruth's Delly has been a staple in the region since 1965.  Make sure you meet the owner, Ted, and ask him to do a magic trick, he's got a few up his sleeve.
Annapolis Ice Cream Company is a must try on your visit no matter the time of year.  I ate here in the dead of the cold and could quite frankly eat this all year-long including January and February.  Homemade flavors range from brownie batter to Oreo mint to chocolate chip cookie dough.  I like to say something was really good if I can remember it weeks after I had it.  I can still taste this ice cream.  Everyday.
Carrol's Creek Waterfront Restaurant should be visited based on its views of the waterfront alone.  Overlooking Spa Creek during the day or evening hours makes for the perfect scenery while trying one of the restaurants staple dishes.  The sea scallops should make your list of appetizers with their fried crispy shredded shells of phyllo served alongside a rich shrimp cream sauce.  The Herb encrusted Rockfish filet should follow where it has been roasted to perfection so many times, the dish is one of the restaurants claims to fame.
Looking for something else in this sea of oysters and crab?  Boatyard Bar and Grill should be on your radar.  I needed something else besides crab in my diet so I turned to the Boatyards' trusty ribs which readily fell off the bones.  A healthy side of cornbread that took me back to my childhood and Smith Island Cake, Maryland's official dessert, made the meal complete.  Careful with this spot, however, if you are in a rush.  They do not take reservations and the space is limited.
A nightcap at Galway Irish Pub should include one of their many egg nog flavors (seasonal).  We opted to have some and take some for the road where they sell bottles to go.  The alcohol infused egg nog does not disappoint on potency or flavor, no need to add anything to this concoction.
After all the food and drinks, JKGF had to rest, which is where the Historic Inn of Annapolis Governor Calvert House comes in.  This property dates back to 1727 and is one of three sister Inn's in Annapolis.  Charming and vintage in décor, the Calvert House epitomizes the allure of Annapolis as a tourist destination.  Besides aesthetics, the Inn is centrally located putting guests in walking distance of Annapolis top tourist attractions.  So glad this was super close to my last destination for the night, Galway Irish Pub, it makes a world of difference after nightcaps.
Annapolis is only a 45 minute trip from the city. Why had I been denying it for so long?? It is the perfect getaway from the ping-pong match I go through in the city. This time, however, I think I'll visit during the Spring. I have to witness the Annapolis Sailboat Show…sounds like an epic affair.
Category: Food.Fun.Stuff., MD, restaurant reviews, Reviews, Travels, Washington D.C.
Johnna French is a Harlem NY native with deep roots in Panama, Washington, DC and North Carolina. All four places have heavily influenced her life and the foods she loves today. After graduating Howard University School of Law and beginning her life as a young professional in the city she was led to start Johnna Knows Good Food in November 2007 to keep family, friends and colleagues updated on where to go and what to eat while dining in the nation's capitol. French, who still practices law, leads a team of three writers to cover the ever expanding Washington, DC food scene. French has been featured in print and television, appearing in Washingtonian Magazine and is a regular contributor to various local TV affiliates including WUSA 9, FOX 5 DC and WJLA (ABC Affiliate) News Channel 8. During the 2016-2017 football season, Johnna aired on Comcast Sports Mid-Atlantic (CSN) show, Redskins Life, as the weekly tailgate host. Johnna is currently a regular contributor to the FOX Baltimore Weekend morning show.
---