When it comes to various cuisines, I love eating them all. However, the one that remains at the top of the list is Italian. When I arrived at Ovvio Osteria, my pregnancy-induced hunger was on fire and I was ready to eat. So you can imagine my excitement when Chef Hetzler greeted me with "I hope you're hungry! We've got plenty of food for you!" Did they deliver? They most certainly did.
Antipasti & Salads: The Mozzarella in Corrozza (my 1st favorite appetizer) will please the cheese lover in anybody and was my absolute favorite appetizer. Think finger grilled cheese sammies made of house-made mozzarella with basil on toasted brioche. This dish is a true winner with two delicious accompanying sauces that bring their own significant flavors and complement the sandwich is different ways: salsa verde and tomato salsa. The White Bean Hummus is a wonderful variation of traditional hummus: made of stewed cannellini beans, olive oil, and roasted garlic, drizzled with balsamic vinaigrette, and served with grilled bread. For the seafood lovers, the Baked Clams have the perfect balance of salty and savory due to white wine, oregano, parmesan cheese, and saffron's unique flavor. The Meatballs al Forno (my 2nd favorite appetizer) are so tender: made of veal, pork, and beef, and served in a homemade tomato sauce.
For salads, three out of five options consist of baby lettuces with diverse accompaniments: baby spinach with pancetta and gorgonzola, baby field greens with champagne vinaigrette, toasted walnuts, and pickled green tomatoes, and baby arugula with olives, sunchokes, and lemon. In addition to other menu options, all of these are gluten-free.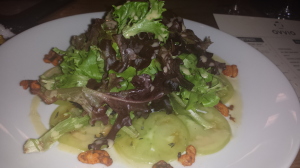 Entrees:  The Grilled Hanger Steak with rosemary sauce, new potato cake, and carbonara onions (a great twist/surprise as most places do simple grilled onions) is simply divine. The sauced onions add a bit of complexity to the sauce and flavor of the steak. Again for the seafood lovers, the Grilled Wild Salmon will tickle your fancy. The sautéed kale is delicious, and the sweet potatoes are, wait for it…. pureed with mascarpone cheese! Yes, you read right. Mascarpone cheese! It adds a rich creaminess and intensifies the flavor of the sweet potatoes. Basically, honey, little to no butter is needed. I'll be stealing this for my Thanksgiving dinner next year :-). Another seafood option is the Gnocchi with Seared Scallops and goat cheese cream. I've met some people who actually aren't that fond of scallops and I honestly think this might be the dish to convert them. The scallops are cooked just right, the gnocchi is tender but not gummy, and the sauce holds it all together and adds the necessary finishing touches.
Desserts: By the time dessert rolled around, I was sufficiently ready to be placed in a wheelbarrow and rolled out of the restaurant. My favorites thus far are the Bomboloni and the Tiramisu. The Tiramisu is beyond beautiful and perfectly layered with all of the flavors that we know, love, and associate with the name. The Bomboloni (Italian ricotta "doughnuts") are deep-fried and served with a decadent chocolate sauce. Need I say more?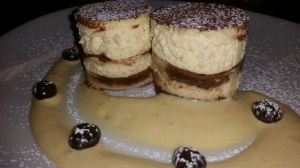 Almost everything served at Ovvio Osteria is made in-house, from the sauces to the pastas to the dessert. What's not house-made is brought in from local purveyors. Chef Richard Hetzler, who comes to Ovvio Osteria after a well-known tenure at the Mitsitam Native Foods Café in the Smithsonian National Museum of the American Indian restaurant, has certainly outdone himself with this season's menu. His goal is to serve fresh and local homemade Italian dishes that celebrate simplicity. You don't need a large lot of flavors to wow someone with a dish. All you need is a good vision, great imagination/taste, and a love for the cuisine that you cook. Not to mention, they occasionally host 3-5 course dinners with wine included that range between $40 to $60 per person. What more can you ask for?
Category: Food.Fun.Stuff., Publicity, restaurant reviews, VA
---