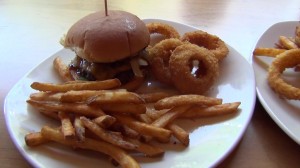 In the early part of 2014, I had pleasure of meeting Lance London, Owner and C.E.O. of the Carolina Kitchen restaurant chain. During this visit he talked about his latest restaurant venture, TKO Burger, and I knew I wanted to be among the first patrons to try out his new creations. My wish came true as I recently dined at TKO Burger, and I can assure you that for those who appreciate a quality hamburger that is filling yet unique, this restaurant is sure to be a D.C. staple for years to come.
With menu items such as the "Maryland Soft Shell Crab Burger", the "Southern Fried Green Tomato Burger", and the "Jerk Burger" to name a few, you can see how my fun began as soon as I opened the menu and started deciding which burger adventure I wanted to embark on. I opted for the "Mac 'N Cheese Burger" and I filled my belly on an interesting medley which included oodles of cheese, macaroni, bacon, and of course, beef. It was a combination that you have to taste for yourself to really appreciate. I somehow managed to save some room to sample the "Turkey Burger", which was equally satisfying while appealing to my healthier side.
As if I wasn't already full enough, I found a little extra space in my tummy that I filled with a couple of bites of delicious sweet potato cake. My taste buds thanked me the entire ride home, and my cake tasted even better when I devoured the rest as a midnight snack. I can truly say that TKO Burger lived up to its name, as I was floored by their unique rendition of a classic American meal. Don't be surprised if you catch me snacking on your next visit to this latest addition to Rhode Island Row!!
Category: Announcements, appetizers, Washington D.C.
---