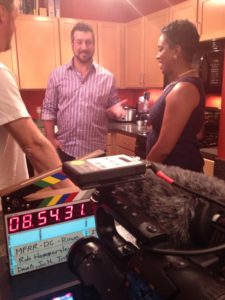 Johnna Rowe, founder and lead writer for popular D.C. area food blog, Johnna Knows Good Food will be the featured guest on the next episode of the Live Well Network's My Family Recipe Rocks hosted by former *NSYNC star and "Dancing with the Stars" contestant Joey Fatone on Sunday, June 15th at 8:30pm ET airing in the Washington, D.C. area on Comcast channel 205, Verizon FiOS channel 467 and over the air on channel 7.3.  To find the Live Well Network in your area please visit.
The half hour cooking show with local flare is designed to highlight the stories of homegrown cooks and their homemade specialties.  Rowe's segment, recorded in April at her home in Washington, D.C. will give viewers a glimpse into her background and affection for southern cuisine. Aunt Dot's Collard Greens and Sugar Hill Mac & Cheese will be among the many dishes Rowe will prepare.
"It was a great honor to be selected to film with Joey Fatone as part of the My Family Recipe Rocks series," said Johnna Rowe, Johnna Knows Good Food. "My family is an important part of my life and my culinary background and I was happy to highlight their stories and influence.  The opportunity to showcase the food scene and culture in Washington is also a key element I wanted to convey."
More images below.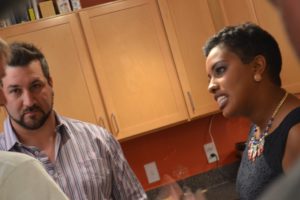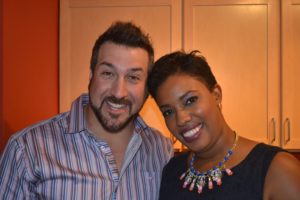 Category: Announcements, Publicity, Recipes, Washington D.C.
Johnna French is a Harlem NY native with deep roots in Panama, Washington, DC and North Carolina. All four places have heavily influenced her life and the foods she loves today. After graduating Howard University School of Law and beginning her life as a young professional in the city she was led to start Johnna Knows Good Food in November 2007 to keep family, friends and colleagues updated on where to go and what to eat while dining in the nation's capitol. French, who still practices law, leads a team of three writers to cover the ever expanding Washington, DC food scene. French has been featured in print and television, appearing in Washingtonian Magazine and is a regular contributor to various local TV affiliates including WUSA 9, FOX 5 DC and WJLA (ABC Affiliate) News Channel 8. During the 2016-2017 football season, Johnna aired on Comcast Sports Mid-Atlantic (CSN) show, Redskins Life, as the weekly tailgate host. Johnna is currently a regular contributor to the FOX Baltimore Weekend morning show.
---