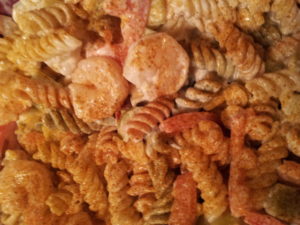 1 lb uncooked medium shrimp, peeled and deveined
1 (12 ounce) bag rainbow rotini pasta
2 large cucumbers, peeled and cubed
3 ribs celery, sliced
2 large tomatoes, cubed
1/2 cup mayonnaise
1 (1 ounce) package prepared ranch dressing mix
1 tablespoon Creole/Cajun spice
Bring a large pot of salted water to a boil. After the water has boiled for about 2 minutes, add the shrimp and cook until they turn pink, about 2 minutes. Remove with a slotted spoon and set aside . Using the same pot of boiling water, cook the pasta according to the package directions, stirring frequently. Drain, let cool slightly, and transfer to a large bowl.
Add the shrimp, cucumbers, celery, and tomatoes to the pasta and toss together. Then add the mayonnaise and ranch dressing mix, and stir to combine well. Season with the Creole/Cajun spice. Cover and refrigerate for about 2 hours so all the flavors can set. Serve cold.
*Renee's Tip: This salad is great for small gatherings because it is very tasty and filling. I like to serve my pasta salad with crackers and pickles on the side. The sourness of the pickles and saltiness of the crackers pairs perfectly with all the Cajun spices in the salad. The recipe also makes a large portion so it is perfect to serve at an event such as a Superbowl party….hint hint!
Check out the Taste of Treme for this and other Creole, Cajun, and Soul Food creations here.
---