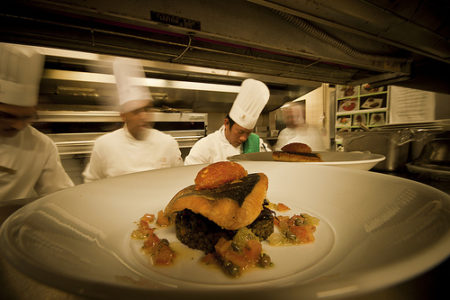 It's a big shame really, a lot of people just don't like fish. Most of us love a good steak, chicken is always on the menu in most people's homes, but when it comes to fish a lot of us seem to have a big phobia of it. The fact is that a lot of people love to eat fish and chips, or they will happily have tuna with a jacket potato. But the idea of having sole or salmon or the oilier fishes like mackerel (or even the dreaded anchovy) people just can't get on board with
It makes sense that a lot of people can't get on board with the filleting of the fish because it's all a bit too much but the recipe below is a winning combination. It's a fish that's not too strong in flavor but still requires a bit of the fish formalities. If you are thinking about getting on board with this, you need to make sure you have the right tools at your disposal, such as filleting knives, you can have a look at Cut It Fine for some information on the best boning and filleting knives for your money. But the arctic char is one of the tastiest fishes you can get but doesn't have that horrible whiffy smell, and is comparable to a very light salmon. So if you're trying to get someone to move on from cod or you're feeling ready, this is your best shot.
Oven Baked Arctic Char With Lemon Sauce (Serves 2 to 3 people)
Ingredients:
1 whole arctic char (make sure it's cleaned and filleted)

The zest of half a lemon

1/2 Tsp of salt

Pinch of black pepper

4 teaspoons of olive oil

1 onion (cut it into big slices)

1 chopped spring onion

3 garlic cloves (cut into thin slices)

4 or 5 slices of lemon

3 to 4 bay leaves

1 baking sheet and some string (or a bit of aluminum foil for wrapping the fish)
Directions:
Preheat the oven to 180 C.

Put the lemon zest, salt, black pepper and olive oil into a small bowl. Mix them well.

Put the fish on a baking sheet and drizzle the skin and inside of the fish with the mixture.

Stuff the fish with the onion, spring onion, and garlic.

Add the bay leaves and some slices of lemon (if you want to put some slices on top of the lemon it's a great way for it to seep into the skin during the cooking process)

Pack the fish into the baking sheet and tie up the middle and the two ends middle with some string.

Put in the center of the oven for about 20 to 25 minutes until cooked.
From here, if you can get on board with the arctic char, there are other fishes to try in this field, such as flounder, tilapia, and then you can move upwards if you're feeling brave towards seafood like prawns, mussels, and the almighty oyster! Fish is a wonderful thing, and it's very good for you, so there's no harm in trying a bit once in a while that's not covered in breadcrumbs!
---