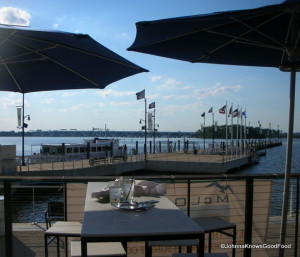 Summer Friday's mean half days or off days, so what do you do with that time?? Relax, relate, release!   Here are three places to help you do that with friends, co-workers or when you're on a solo mission.  Have a great weekend!
Beginning June 14, Azur will be offering its popular Oyster happy hour early on Fridays. From 3-7pm, the Penn Quarter seafood restaurant will be serving up $1 oysters and select $5 draft beers and $6 cocktails.
Azur, 405 8th St NW. 202-347-7491

On June 14, Victor Albisu's Penn Quarter South American grill is launching Street Food Fridays, during which Chef Albisu will offer one or more traditional South American street food favorites for carry-out only from the patio, beginning at 11:30am. First up is the Chori-Pan, a sandwich of chorizo, pulled pork, rapini and sweet pickle chimichurri on a baguette for $8.
The restaurant will also be offering its $7 happy hour specials in the bar and on its patio from 11:30am-7pm on Fridays.
Del Campo, 777 I St NW. 202-289-7377.
Beginning June 14 and running through August 30, Graffiato will be offering a Friday happy hour from 2pm-6pm that includes $5 market punch, $5 house red and white wines, $5 draft Montelvini Prosecco and $5 draft beer (DC Brau, Lagunitas IPA, Peroni).
Graffiato, 707 6th St NW. 202-289-3600.
Category: Announcements, Food.Fun.Stuff., Happy Hour, Washington D.C.
Johnna French is a Harlem NY native with deep roots in Panama, Washington, DC and North Carolina. All four places have heavily influenced her life and the foods she loves today. After graduating Howard University School of Law and beginning her life as a young professional in the city she was led to start Johnna Knows Good Food in November 2007 to keep family, friends and colleagues updated on where to go and what to eat while dining in the nation's capitol. French, who still practices law, leads a team of three writers to cover the ever expanding Washington, DC food scene. French has been featured in print and television, appearing in Washingtonian Magazine and is a regular contributor to various local TV affiliates including WUSA 9, FOX 5 DC and WJLA (ABC Affiliate) News Channel 8. During the 2016-2017 football season, Johnna aired on Comcast Sports Mid-Atlantic (CSN) show, Redskins Life, as the weekly tailgate host. Johnna is currently a regular contributor to the FOX Baltimore Weekend morning show.
---