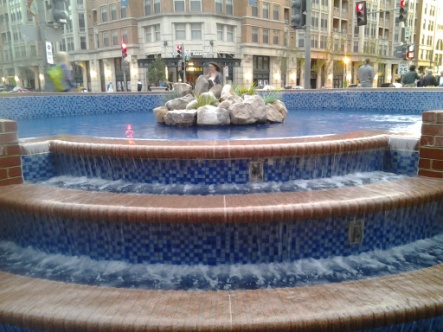 Imagine my delight as I relaxed on an entrancing stone and brick patio, teasing my taste buds with a succulent oven-roasted rack of lamb accompanied by a delicious smoked salmon and Carolina Gold Rice risotto. As the waiter uncorked a pleasingly aromatic bottle of Cabernet Franc Rosé, I enjoyed a gentle breeze, which complimented the gentle gurgle coming from the cleverly placed water fountain in the corner. The best part of all is that I didn't have to travel far for this amazing experience – I found all of this at the Blue Duck Tavern located at the Park Hyatt right here in Washington, D.C.
This contemporary eatery can be found at the corner of M Street and 24th Street N.W., and I was amazed at how effectual they were at providing a resplendent oasis amidst the Georgetown hustle and bustle. During my visit I was pampered by Executive Chef Sebastien Archambault and Chef de Cuisine John Melfi as they showcased their delectable menu which boasts an American cuisine consisting of everything from braised beef rib and wood oven-roasted scallops, to roasted Muscovy duck breast or a lighter fare of baby wedge salad with radishes. To my surprise, I found a favorite of the evening in the coddled duck egg, a must try for finicky eaters and adventurous diners alike. During the service, we were treated to a compliment of wines and spirits from the Boxwood Winery, a local favorite.
I concluded my evening with a visit to the indoor seating area, where I enjoyed one of the secrets to Blue Duck Tavern's success: a wood-burning oven which gives a crisp flavor to the many dishes prepared over the open flame. The open-kitchen design not only allowed me to view the cooks working their magic first-hand, but it also gave me a license to inhale the fragrant scents as they toiled the night away like a group of soldiers armed with spatulas and frying pans.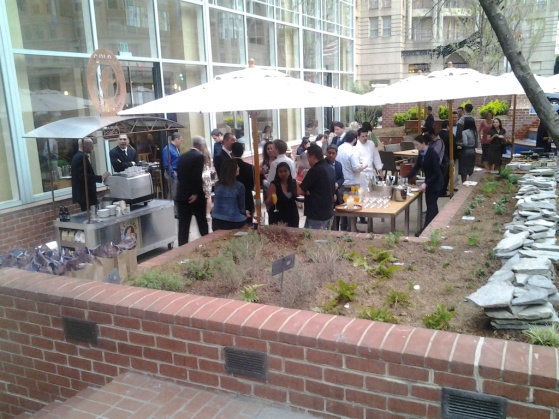 Overall, I had a truly amazing experience at the Blue Duck Tavern and it's sure to become a frequent stop on my restaurant list. Treat yourself to a day on the patio at Blue Duck Tavern – you won't regret it!
Category: Food.Fun.Stuff.
---