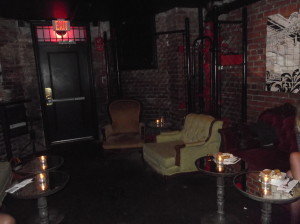 Right before my birthday on May 3rd, there was another fantastic birthday event: Last Exit's 2nd Anniversary celebration. I had honestly never really heard about this establishment until a few months back, but hey, better late than never right? This wonderful cocktail lounge that's located in Mt Pleasant achieves its mission of providing an eclectic mix of an atmosphere: laid back VIP vibe combined with a bit of romanticism. In addition to that, the located is somewhat hidden. In order to actually enter the lounge you have to go into Tonic and walk straight to the bottom of the stairs in there. The space itself is intimate without being over-the-top and would be a great addition to any date night or night out with friends.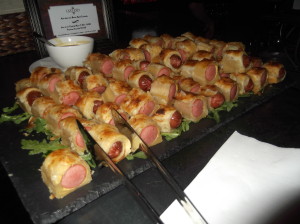 The food is equally as good and eclectic. Last Exit serves a great variety of cocktails, wine, beer, whiskey, and small plates. Their menu can be viewed here. During the party, they served their homemade pigs in a blanket, hot popcorn, and pita chips with hummus. The home-made pigs their blankets were served with stout mustard and were surprisingly delicious. I say "surprisingly delicious" because typically I'm not a fan of mustard unless it's used in cooking but I can attest to actually going back to that platter at least 3-4 times that night.
Not only were various hors d'oeuvres served, but specialty cocktails as well. The night honestly wouldn't have been right without them. Fortunately for me I was accompanied by my friend Naomi who between us we were able to sample a good number. We both tried the Duling. On our own,  I tried the Bermuda Rum Swizzle & the Rachel while Naomi had the Rachel and the Russian Summer.
The Bermuda Rum Swizzle is a delightful mix of spiced rum, fresh OJ, pineapple juice, house made spiced grenadine, and Angostura bitters: spicy yet sweet and perfectly so. This drink ended up being my ultimate favorite of the night.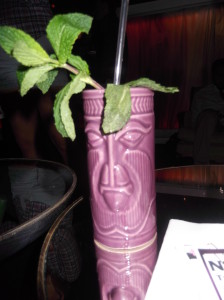 The Duling is made out of jalapeno and basil (yes JALAPENO & BASIL!) infused tequila, fresh lemon & lime juice, and Luxardo Maraschino liqueur. On first sniff of this drink, you get the flavorful nasal kick of jalapeno. Upon first sip, you get basil, lemon, lime, and then jalapeno. I wasn't too sure about whether or not I'd like it but it was different, in a good way and pretty refreshing.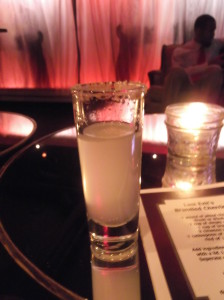 The Rachel was a pretty close to being my 2nd favorite during the festivities. It's a balance of lavender infused gin, fresh lime juice, and St. Elizabeth's Allspice Dram. Naomi described it as an alcoholic bubble bath that she wanted to submerge herself in, minus the soapy qualities and the result of coming out all wrinkled and soaked. After saying that, there's no point in adding more adjectives, right?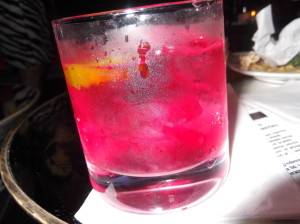 The Russian Summer is made up of Russian vodka, house made beet & lemon shrub, and soda, with a pickle chip to compliment the sour/sweetness. This drink both looked and tasted like beets. Don't get me wrong, it isn't all beets but it helps if you already like the vegetable.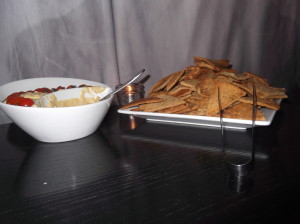 Kudos to Last Exit for throwing a spectacular anniversary/birthday event this year and congratulations once again. You guys are only two years old but you're doing great. As long as you keep those pigs in the blankets, you'll be fine ;).
Category: Food.Fun.Stuff., Happy Hour, restaurant reviews, Washington D.C.
Johnna French is a Harlem NY native with deep roots in Panama, Washington, DC and North Carolina. All four places have heavily influenced her life and the foods she loves today. After graduating Howard University School of Law and beginning her life as a young professional in the city she was led to start Johnna Knows Good Food in November 2007 to keep family, friends and colleagues updated on where to go and what to eat while dining in the nation's capitol. French, who still practices law, leads a team of three writers to cover the ever expanding Washington, DC food scene. French has been featured in print and television, appearing in Washingtonian Magazine and is a regular contributor to various local TV affiliates including WUSA 9, FOX 5 DC and WJLA (ABC Affiliate) News Channel 8. During the 2016-2017 football season, Johnna aired on Comcast Sports Mid-Atlantic (CSN) show, Redskins Life, as the weekly tailgate host. Johnna is currently a regular contributor to the FOX Baltimore Weekend morning show.
---