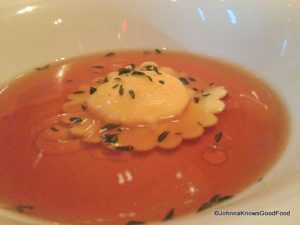 CityZen is one of those places I want to visit at least once a week whenever my funds will allow for the trip.  I had heard mixed reviews on CityZen prior to visiting with some people boasting how magnificent the food was and some leaving with lukewarm affections for the place.  As with most things in my life, I like to test the waters for myself before formulating an opinion.  CityZen is superior in service.  Hands down.  On my list of places that make you feel like royalty when you dine there, CityZen ranks high on the roster.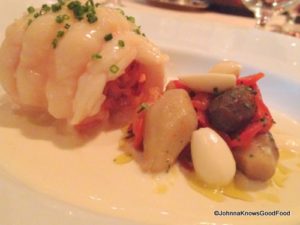 Since the menu changes frequently, I would not want to ruin your expectations with things I loved during my meal.  I can, however, give you the highlights of things you should consider.  Chef Eric Ziebold has a way of playing with the palates imagination while keeping a traditional sense of fine dining.  Light broths tantalized with ravioli made my soup course more than simply a starter course, rather a memory not to be forgotten.  The usual line of courses followed with each maintaining its own personality, which is what I am sure lovers of CityZen admire about this place.  The cheese course presentation, however, was the highlight of the evening with the server giving this elaborate history course on the names, origins and best pairings for the cheeses.  I truly need to go back to school for this one…or maybe I just need another trip to CityZen.
Category: restaurant reviews, Washington D.C.
Johnna French is a Harlem NY native with deep roots in Panama, Washington, DC and North Carolina. All four places have heavily influenced her life and the foods she loves today. After graduating Howard University School of Law and beginning her life as a young professional in the city she was led to start Johnna Knows Good Food in November 2007 to keep family, friends and colleagues updated on where to go and what to eat while dining in the nation's capitol. French, who still practices law, leads a team of three writers to cover the ever expanding Washington, DC food scene. French has been featured in print and television, appearing in Washingtonian Magazine and is a regular contributor to various local TV affiliates including WUSA 9, FOX 5 DC and WJLA (ABC Affiliate) News Channel 8. During the 2016-2017 football season, Johnna aired on Comcast Sports Mid-Atlantic (CSN) show, Redskins Life, as the weekly tailgate host. Johnna is currently a regular contributor to the FOX Baltimore Weekend morning show.
---