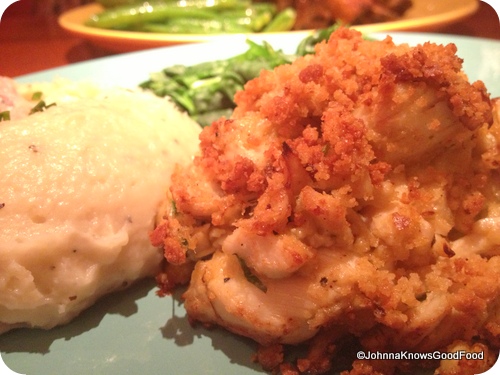 Shopping builds up quite an appetite and window shopping builds up an even bigger one.  Taking on a new attitude about budgeting, I recently joined a friend to the mall (gosh, I have not been to this place in ages…).  Instead of spending it all, I simply window shopped and waited until feeding time which landed us at Coastal Flats in Tysons Corner Mall.  Having heard about the crab cakes here, I nearly swallowed them after finding they had lived up to the hype.  Seeing the line of carriages parked alongside one wall in the restaurant, I took that to mean not only are they kid friendly, but they are well prepared with parking spaces for the kids rides.  They have a good way of preparing you:  their starter rolls are some of the best on this side of the Potomac.
Category: restaurant reviews
Johnna French is a Harlem NY native with deep roots in Panama, Washington, DC and North Carolina. All four places have heavily influenced her life and the foods she loves today. After graduating Howard University School of Law and beginning her life as a young professional in the city she was led to start Johnna Knows Good Food in November 2007 to keep family, friends and colleagues updated on where to go and what to eat while dining in the nation's capitol. French, who still practices law, leads a team of three writers to cover the ever expanding Washington, DC food scene. French has been featured in print and television, appearing in Washingtonian Magazine and is a regular contributor to various local TV affiliates including WUSA 9, FOX 5 DC and WJLA (ABC Affiliate) News Channel 8. During the 2016-2017 football season, Johnna aired on Comcast Sports Mid-Atlantic (CSN) show, Redskins Life, as the weekly tailgate host. Johnna is currently a regular contributor to the FOX Baltimore Weekend morning show.
---