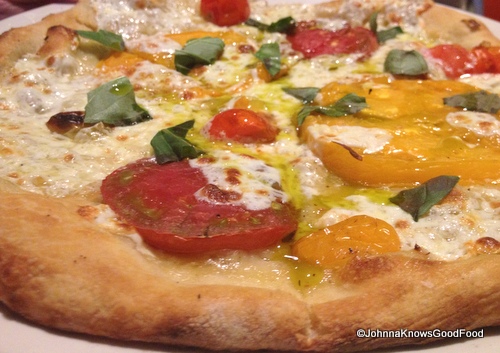 Annapolis, MD is one of those places that seems so far to one who virtually sleeps, eats and breaths downtown Washington, DC.  Just the opposite is true of the capitol of Maryland, which is only roughly 30 miles from the downtown center of DC.  I am almost always excited to try something new so when I saw the invite for West Kitchen & Tavern, I jumped on it.  It was only when I got in my car, looked at the address and realized I had just signed up for the one thing I am not fond of doing:  driving long distances, that I realized this might not have been a bright idea afterall.  My thought process at the time:  "There better be some good food in Annapolis".  Luckily, there was good food at the end of the rainbow.
When heirloom tomatoes are in season, every menu should be graced with their presence.  West took pleasure in creating their heirloom tomato salad filled with watermelon, blue cheese, macadamia nuts and a hint of mint.  With their brick oven, it is no surprise the restaurant added on an Heirloom Tomato pizza (mozzarella, basil and extra virgin olive oil).
I took a walk on the wild side and ordered the Honey & Lavender Half-Chicken.  I say wild side because ordering baked or grilled chicken can either mean extra dry or extra greasy, it never meets in the middle for me.  The Honey & Lavender chicken came to that median point with an aroma so fragrant you would think you were standing in a floral shop versus a restaurant.  The Lavender made its presence known with a rich fragrant, almost mesmerizing scent.
The best portions of my meal came in the forms of sweets which is ironic for someone who nearly dreads this part of dinnertime.  The bread pudding dripping in Bourbon Caramel Sauce changed my life.  I may be an undercover sweets lover or maybe Executive Chef Kevin Relf has a secret ingredient that has intrigued my inner sweets self.  Whatever it is, West bread pudding tops the best five in the area.  The West Cobblestone sodas are worth a try as well even if you are not a soda drinker.  Made fresh tableside, I suggest the Cucumber flavor, which exudes all the fresh flavors of the vegetable.
West Kitchen & Tavern is worth the trip up Route 50 and if you already frequent the area, I encourage you to stop in for a meal.  Besides cultivating familiar dishes into fresh concepts, the restaurant has veteran and local celebrity oyster shucker, Lester Jones, shucking up some of the best oysters on this side of town.  Get your aphrodisiac on!
Category: Announcements, Food.Fun.Stuff., MD, restaurant reviews, Washington D.C.
Johnna French is a Harlem NY native with deep roots in Panama, Washington, DC and North Carolina. All four places have heavily influenced her life and the foods she loves today. After graduating Howard University School of Law and beginning her life as a young professional in the city she was led to start Johnna Knows Good Food in November 2007 to keep family, friends and colleagues updated on where to go and what to eat while dining in the nation's capitol. French, who still practices law, leads a team of three writers to cover the ever expanding Washington, DC food scene. French has been featured in print and television, appearing in Washingtonian Magazine and is a regular contributor to various local TV affiliates including WUSA 9, FOX 5 DC and WJLA (ABC Affiliate) News Channel 8. During the 2016-2017 football season, Johnna aired on Comcast Sports Mid-Atlantic (CSN) show, Redskins Life, as the weekly tailgate host. Johnna is currently a regular contributor to the FOX Baltimore Weekend morning show.
---