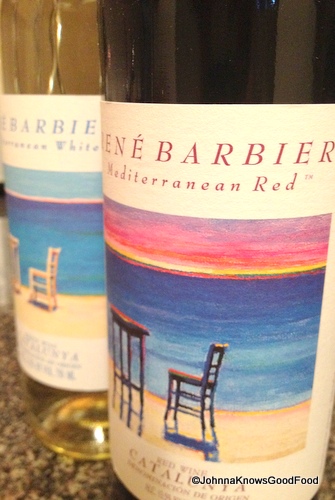 Drinking good wine is one of my favorite pastimes.  I had to ask myself one day what does this really mean? Good wine?  Do I even know what is good wine??  Each day I try to deliberately find a new way to cultivate my food knowledge, and knowledge in general, and understanding the art behind wine has taken on a life of its own in my search.  Since the expense of taking a sommelier class is not in the budget, I am going to have to teach myself a few things for now.  My first opportunity to test my knowledge came when I received René Barbier Mediterranean Red and White wines.  With a standard retail price of $6, I was curious to taste what was hiding in this bottle.
A delightful surprise found its way into my kitchen: A fresh burst of light fruity flavor with a medium bold body.  Just the way I like my red.  The RB Mediterranean Red is made up of 55% Merlot and 45% Tempranillo with an alcohol content of 12.5%.  With touches of mulberry and vanilla, the wine should meet you at a steak or pork dinner.
The RB Mediterranean White was an equal match to its sister where is delivers a light fruity scent with a crisp flavor.  The floral flavor and low acidity sits nicely beside shellfish or chicken.  Though light on the acidity, a light citrus flavor rings clear making you want to enjoy this one all by itself, no meal to weigh down the experience.  The RB Mediterranean White is a blend of Xarel-lo, Macabeo and Parellada with an alcohol content of 11.5%.
I appreciate wines that excite me from the first time I unleash the cork, which is why RB Mediterranean Wines is on to something with this series.  Besides the fact that the wine actually measures up to those leading in the industry, $6 is a helluva price point to beat.
Category: Alcoholic beverages, Announcements, Food.Fun.Stuff., Product Review
Johnna French is a Harlem NY native with deep roots in Panama, Washington, DC and North Carolina. All four places have heavily influenced her life and the foods she loves today. After graduating Howard University School of Law and beginning her life as a young professional in the city she was led to start Johnna Knows Good Food in November 2007 to keep family, friends and colleagues updated on where to go and what to eat while dining in the nation's capitol. French, who still practices law, leads a team of three writers to cover the ever expanding Washington, DC food scene. French has been featured in print and television, appearing in Washingtonian Magazine and is a regular contributor to various local TV affiliates including WUSA 9, FOX 5 DC and WJLA (ABC Affiliate) News Channel 8. During the 2016-2017 football season, Johnna aired on Comcast Sports Mid-Atlantic (CSN) show, Redskins Life, as the weekly tailgate host. Johnna is currently a regular contributor to the FOX Baltimore Weekend morning show.
---