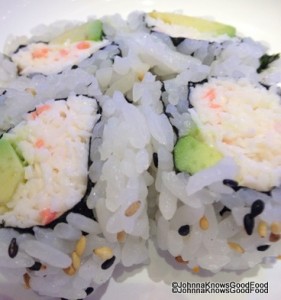 Omakase (Tasting Menu) in KAZ's Tasting Parade
The chefs at Kaz Sushi Bistro create the impromptu 8 course menu featuring unique dishes (6 original small dishes, sushi & dessert) for $85 and up (Reservations Recommended).
In Japanese cuisine, tasting menus are called omakase which traditionally, the chef designs the menu for you, based on the very best ingredients available. 
Kaz Sushi Bistro
 is one of DC's most popular and well-regarded sushi destinations due to veteran chef,
Kazuhiro "Kaz" Okochi
, who has a reputation for composing beautifully crafted fresh seafood. There is no set menu for the omakase, it's up to the chef, but dishes have included spicy sea scallop sashimi, tuna Napoleon, Hramasa or wild Yellowtail, house-smoked fatty Norwegian herring with Japanese cucumbers, miso-marinated salmon, braised short ribs with sweet potato puree, nigiri and panna cotta dessert.
If you're really feeling adventurous and hungry, you can order the Ultimate Sushi meal where the sushi chefs will serve you the best of what they have and won't stop until you say "Enough". The Ultimate Sushi experience is priced a la carte. Both tastings do not require reservations; however, but they are strongly recommended as they are only served at the Sushi Bar.  Yet another reason to fulfill your sushi fix.
Category: Announcements, Food.Fun.Stuff., Washington D.C.
Johnna French is a Harlem NY native with deep roots in Panama, Washington, DC and North Carolina. All four places have heavily influenced her life and the foods she loves today. After graduating Howard University School of Law and beginning her life as a young professional in the city she was led to start Johnna Knows Good Food in November 2007 to keep family, friends and colleagues updated on where to go and what to eat while dining in the nation's capitol. French, who still practices law, leads a team of three writers to cover the ever expanding Washington, DC food scene. French has been featured in print and television, appearing in Washingtonian Magazine and is a regular contributor to various local TV affiliates including WUSA 9, FOX 5 DC and WJLA (ABC Affiliate) News Channel 8. During the 2016-2017 football season, Johnna aired on Comcast Sports Mid-Atlantic (CSN) show, Redskins Life, as the weekly tailgate host. Johnna is currently a regular contributor to the FOX Baltimore Weekend morning show.
---