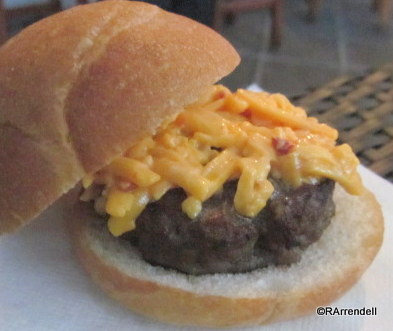 Even on a 90-degree Thursday, 9-to-5ers can be found populating Johnny's Half Shell's brand new $135K patio for their share of complimentary cocktails and hors d'oeuvres. A combo of fresh squeezed grapefruit juice, cranberry juice, and Svedka vodka made their "Climate Change" cocktail a refreshing hit. They also featured samples of red and white wine by the glass. There was no shortage of happy hour hors d'eouvres, from BBQ shrimp and asiago cheese grits served in a silver scoop spoon to burger sliders and raw oysters.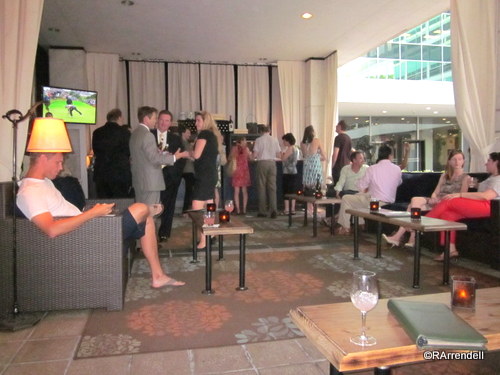 The patio was scattered with wicker sectionals with plush navy cushions, lamps, and refurnished wooden tables adorned with tinted tea lights. Sports fan could catch The British Open on a flat-screen TV near their 14-foot-long copper bar. Minutes from Union Station, the patio is inviting for the Hill crowd and NoMa community alike.  As these evening temperatures decline by the hour, Johnny's patio invites guests to cool down and take in some of the area's prized aphrodisiac's.
Category: Announcements, Food.Fun.Stuff., Washington D.C.
Johnna French is a Harlem NY native with deep roots in Panama, Washington, DC and North Carolina. All four places have heavily influenced her life and the foods she loves today. After graduating Howard University School of Law and beginning her life as a young professional in the city she was led to start Johnna Knows Good Food in November 2007 to keep family, friends and colleagues updated on where to go and what to eat while dining in the nation's capitol. French, who still practices law, leads a team of three writers to cover the ever expanding Washington, DC food scene. French has been featured in print and television, appearing in Washingtonian Magazine and is a regular contributor to various local TV affiliates including WUSA 9, FOX 5 DC and WJLA (ABC Affiliate) News Channel 8. During the 2016-2017 football season, Johnna aired on Comcast Sports Mid-Atlantic (CSN) show, Redskins Life, as the weekly tailgate host. Johnna is currently a regular contributor to the FOX Baltimore Weekend morning show.
---