Last Monday night, I had the pleasure of visiting the Chinatown location of Ping Pong Dim Sum with my fiancé. The restaurant started a summer promotion last week that runs Monday through Wednesday where couples can go and order from a special date night menu that contains an ingredient with aphrodisiac qualities in every dish. Talk about enticing!
 To start, you're brought two fig and chocolate martinis. As someone who loves anything that has fruit or chocolate, I was instantly hooked. The martinis are a combination of Jack Daniel's Whiskey, White Chocolate Liqueur, pureed figs, and heavy cream. It was honestly like an alcoholic milkshake sent from the cocktail gods. All of the food was grade-A amazing. My favorite dishes were the char sui buns and the honey glazed spare ribs. I ended the night with the flaming passion fruit martini 'cause you can't go wrong with rum, fresh passion fruit, rum, and fruit that's on fire, yes?
                       Image via Ping Pong Dim Sum
Flaming Passion Fruit: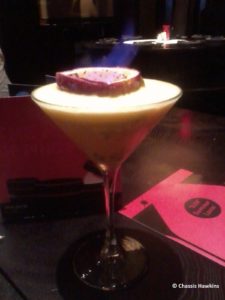 By the end of the night you and your guest will have gone through a total of seven dishes that are diverse in cooking techniques, including dessert. The cost of is $60 ($30 per person) and is completely worth it. So take your date, your significant other, or even a friend if you guys are just hanging out and intrigued by the menu. Pretty please with flaming fruit on top? 😀 I guarantee you'll enjoy yourself.
Category: cultural cooking, Food.Fun.Stuff., Publicity, restaurant reviews
---