Last Monday, November 12th, I had the pleasure of attending Lebanese Taverna's grand reveal and cocktail reception at their restaurant location in Woodley Park with a friend. I'd heard alot about the restaurant but had never been so this was the best time to check it out.  Although there are so many popular restaurant and cafe locations all over the Washington, D.C. metro area, the company is completely ran & owned by the family that started it. Gotta love supporting businesses that are non-corporate & locally owned! Anyway, the owners closed the doors in the beginning of the summer to do some intense renovations on the entire restaurant and reopened it on Sunday, November 4th and the place looks amazing. The color scheme is a mix of gorgeous wood, stone walls, comfy booths, and dark tables and funky chairs. Both the decor and the atmosphere highlight the authentic cuisine of the restaurant by making you feel like you're actually eating the food in a luxurious house in the native country.
(Courtesy of Lebanese Taverna's Facebook Page)
Everything at the reception was fabulous, from the music and the dancers to the variety of people, to the the food (naturally). There was so much food to go around: a hummus bar with a plethora of toppings like lamb, olives, feta cheese, mini pita chips, and tomatoes, a roasted beet salad with arugula, oranges, pine nuts, pomegrante seeds, and feta, taboleh salad, passed grape leaves and various kibbeh, and their new menu item shrimp arak. The shrimp was definitely my all-time favorite. It's sauteed with garlic and onions, tossed in a lemon-cilantro-arak sauce, and put over perfect pearl couscous.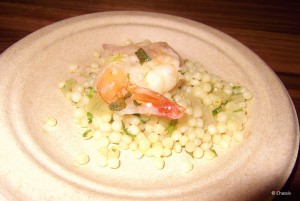 As a newbie there but an all-time lover of middle eastern cuisine, I thoroughly enjoyed myself and will definitely be heading back in the next month to check out their brunch menu and definitely going back to confiscate more of that shrimp arak for dinner.
Category: Announcements, cultural cooking, Food.Fun.Stuff., Publicity, restaurant reviews, Washington D.C.
Johnna French is a Harlem NY native with deep roots in Panama, Washington, DC and North Carolina. All four places have heavily influenced her life and the foods she loves today. After graduating Howard University School of Law and beginning her life as a young professional in the city she was led to start Johnna Knows Good Food in November 2007 to keep family, friends and colleagues updated on where to go and what to eat while dining in the nation's capitol. French, who still practices law, leads a team of three writers to cover the ever expanding Washington, DC food scene. French has been featured in print and television, appearing in Washingtonian Magazine and is a regular contributor to various local TV affiliates including WUSA 9, FOX 5 DC and WJLA (ABC Affiliate) News Channel 8. During the 2016-2017 football season, Johnna aired on Comcast Sports Mid-Atlantic (CSN) show, Redskins Life, as the weekly tailgate host. Johnna is currently a regular contributor to the FOX Baltimore Weekend morning show.
---