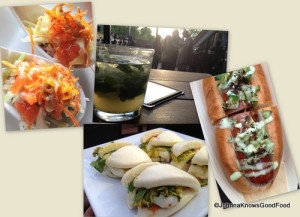 It is a beautiful day in the District!!! If you are not out, planning to be out or open to being out in this beautiful weather today, what are you doing with your life?!? For those of us that need a bit of sexy beside our favorite Sangria, Masa 14's rooftop should be your first, second or last stop on the bar/restaurant hop. Nightly (including tonight) they have a rooftop happy hour featuring $4 Margaritas, Sangria Beer & Wine from 5 pm-7 pm. Fill up on bar bites such as their Bao Buns, Spicy Crab Nachos or one of their Dogs before going in hard on those Margaritas…helps to soak up the alcohol.
Some other reasons to hit up the Masa 14 rooftop:
*Sunday Sangria Dinner– Dinner is served on the rooftop one day a week: Sunday. To make supper on the rooftop even more tasty, Carafes of Sangria are 1/2 price throughout the meal. Reservations required. Call (202) 328-1414 or reserve here. (5 PM-Close)
*Margarita Mondays– $4 Margs, 5 PM- Close
*WEEKEND BOTTOMLESS BRUNCH– $35 All You Can Eat & Drink. Enough said.
Just days away from the official beginning of summer (June 21), it feels like this is going to be a good one. No, a great one. Cheers to the freakin' weekend!
Category: Announcements, Food.Fun.Stuff.
Johnna French is a Harlem NY native with deep roots in Panama, Washington, DC and North Carolina. All four places have heavily influenced her life and the foods she loves today. After graduating Howard University School of Law and beginning her life as a young professional in the city she was led to start Johnna Knows Good Food in November 2007 to keep family, friends and colleagues updated on where to go and what to eat while dining in the nation's capitol. French, who still practices law, leads a team of three writers to cover the ever expanding Washington, DC food scene. French has been featured in print and television, appearing in Washingtonian Magazine and is a regular contributor to various local TV affiliates including WUSA 9, FOX 5 DC and WJLA (ABC Affiliate) News Channel 8. During the 2016-2017 football season, Johnna aired on Comcast Sports Mid-Atlantic (CSN) show, Redskins Life, as the weekly tailgate host. Johnna is currently a regular contributor to the FOX Baltimore Weekend morning show.
---