Living in the District has taught me a few things about networking:  always have business cards.  People carry them around this city the way they carry their wallets and I have received more than a few frowns for not having them in tow.  This is the reason I was excited to have another opportunity to giveaway business cards to my like-minded readers.  Having the right business card can leave the impression that you want or can have you quickly forgotten in the mix.  A year ago, I decided I wanted to give people something to remember and what better than a pic of yours truly.  I ordered these 2″x2″ cards from UPrinting and stamped it with my alter egos.  Positive feedback has been gushing in and I am pleased to have yet another opportunity to get some new biz cards through the UPrinting business card printing giveaway.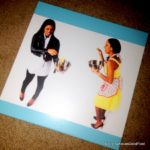 How to enter? Simply "Like" Johnna Knows Good Food and UPrinting on Facebook and you are automatically entered to win.  A winner will be chosen at midnight tomorrow night, April 17, 2012.  Winner will receive 250 business cards from UPrinting.
Disclaimer: You should assume that I will receive free print products in exchange for the post. Any and all reviews posted are based solely on my own experience and may be atypical. Please practice due diligence in making any related purchase decisions.
Category: Announcements
Johnna French is a Harlem NY native with deep roots in Panama, Washington, DC and North Carolina. All four places have heavily influenced her life and the foods she loves today. After graduating Howard University School of Law and beginning her life as a young professional in the city she was led to start Johnna Knows Good Food in November 2007 to keep family, friends and colleagues updated on where to go and what to eat while dining in the nation's capitol. French, who still practices law, leads a team of three writers to cover the ever expanding Washington, DC food scene. French has been featured in print and television, appearing in Washingtonian Magazine and is a regular contributor to various local TV affiliates including WUSA 9, FOX 5 DC and WJLA (ABC Affiliate) News Channel 8. During the 2016-2017 football season, Johnna aired on Comcast Sports Mid-Atlantic (CSN) show, Redskins Life, as the weekly tailgate host. Johnna is currently a regular contributor to the FOX Baltimore Weekend morning show.
---