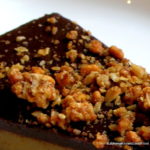 If you are like me, you don't like to taste the sugar in your desserts and pastries.  When I can taste the sugar, I call it sugar-shoving, as in the sugar is shoved in my face and I am left with a feeling of guilt for consuming too much.  Thanks to owner Alexander Petrossian, you won't have that problem with their new line of cookies and muffins which are now being sold in his 28 year old Petrossian restaurant located at 58th Street and 7th Avenue in mid-town Manhattan, and in their new Petrossian Sidewalk Café which is to the left as you leave the restaurant on 7th Avenue.  Their new product line includes two cookies, Parmesan shortbread with fennel and Parmesan Rosemary, a Lemon Thyme muffin and a light swirled macaroon.
Light is the operative word for the macaroons, utterly delicious, this from someone who does not usually like macaroons; they're usually way too sweet, but not Petrossian's; they are swirled just right for a nice treat with tea or coffee.  The shortbread with fennel and cookie with Rosemary were savory from the spices with just the right touch of sweetness to keep them in the cookie family, but bold enough to be enjoyed with a cup or bowl of soup.  Jams, processed in small batches without corn syrup, pectin, preservatives or colors, from Sunchowder's Emporia were also featured to compliment Petrossian's delicate and delicious croissants and other fine breads.
My personal favorite, the lemon thyme muffin, is as they say, in a category of its own.  It is a perfect blend of lemon, thyme and sweetness.  It satisfied my sweet tooth completely without the guilt.  It was light on my stomach and left me feeling satisfied and exuberant.  It is the perfect dessert for a spring or summer soirée.   In other words, now is the time to start enjoying it and all the other treats.
*You can visit Petrossian at 58th  Street and 7th Avenue in Manhattan.
Category: restaurant reviews, Travels
Johnna French is a Harlem NY native with deep roots in Panama, Washington, DC and North Carolina. All four places have heavily influenced her life and the foods she loves today. After graduating Howard University School of Law and beginning her life as a young professional in the city she was led to start Johnna Knows Good Food in November 2007 to keep family, friends and colleagues updated on where to go and what to eat while dining in the nation's capitol. French, who still practices law, leads a team of three writers to cover the ever expanding Washington, DC food scene. French has been featured in print and television, appearing in Washingtonian Magazine and is a regular contributor to various local TV affiliates including WUSA 9, FOX 5 DC and WJLA (ABC Affiliate) News Channel 8. During the 2016-2017 football season, Johnna aired on Comcast Sports Mid-Atlantic (CSN) show, Redskins Life, as the weekly tailgate host. Johnna is currently a regular contributor to the FOX Baltimore Weekend morning show.
---