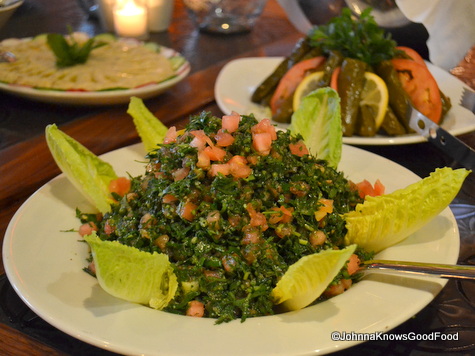 The phrase never judge a book by its cover stands true when you think about Kababji Grill.  From the outside, its easy to pass this place in the bustling Dupont neighborhood and think of it as a fast food carryout spot.  Far from fast food and there is no carry out furniture in these parts.  The restaurant is actually set in a contemporary dining setting with a business casual flair.  Recently I visited the restaurant to taste the wines of Lebanon and get a taste of some of their featured appetizers.
A little history lesson on Lebanese wines:  Lebanon is the home of the world's oldest wineries with wine production dating back thousands of years to B.C. times when red and white wines from the Bekka Valley were sent by the ancient Phoenicians to Egypt, Rome and Europe.  Far from tasting old and spoiled as its age would encourage, Lebanese wines are crisp and fruity.  Deep reds and rose's lined the bar as we tasted Lebanese Chateau Ksara, Massaya and Chateau St. Thomas, among others.
Paired with hummus, grape leaves and fried kibbeh (*my new favorite appetizer: cracked wheat, ground beef, pine nuts and onions rolled into one…), I began to feel a sense of comfort in Kababji.  This is a place I want to revisit after holding such a jaded image of the place in my head for so long.
Though the place offers delivery, I suggest you take a trip here and I would actually do it when you want to see a look of surprise on your dates face.  I guarantee they will raise a brow once they find out what's behind those doors.
Category: Food.Fun.Stuff., restaurant reviews, Washington D.C.
Johnna French is a Harlem NY native with deep roots in Panama, Washington, DC and North Carolina. All four places have heavily influenced her life and the foods she loves today. After graduating Howard University School of Law and beginning her life as a young professional in the city she was led to start Johnna Knows Good Food in November 2007 to keep family, friends and colleagues updated on where to go and what to eat while dining in the nation's capitol. French, who still practices law, leads a team of three writers to cover the ever expanding Washington, DC food scene. French has been featured in print and television, appearing in Washingtonian Magazine and is a regular contributor to various local TV affiliates including WUSA 9, FOX 5 DC and WJLA (ABC Affiliate) News Channel 8. During the 2016-2017 football season, Johnna aired on Comcast Sports Mid-Atlantic (CSN) show, Redskins Life, as the weekly tailgate host. Johnna is currently a regular contributor to the FOX Baltimore Weekend morning show.
---