Something bad is going on between me and chicken.  I am really beginning to grow a strong disdain for it, which is weird because I never thought my lifestyle might naturally evolve to being a full blown vegetarian.  That was until Gold N' Plump sent over some of their many chicken selections.  Eyes lit up a like a kid on Christmas, I began thinking of recipes for the ground chicken, skinless/boneless chicken breasts and drumsticks.  Instead of cramming all my goodies into one post I decided it's time for me to do a series of recipes to see if my relationship with chicken is over because of one of two reasons:  I truly do not like it anymore or I am just bored with the recipes I have been using? We'll find out together as today is the first of "The Chicken Chronicles".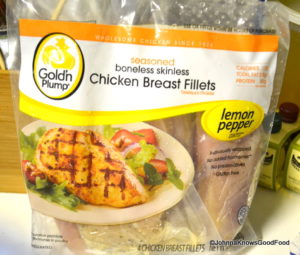 Recipe 1:  Shrimp and Chicken Etouffee (*As adapted from The Food Network Magazine)
2 tablespoons vegetable oil
4 Gold N' Plump Chicken Breasts Fillets

Kosher salt
1/2 cup plus 2 tablespoons all-purpose flour
4 stalks celery, diced
1 large onion, diced
1 green bell pepper, chopped
4 garlic cloves, minced
1/4 teaspoon cayenne pepper
4 cups low-sodium chicken broth
1 pound medium shrimp, peeled and deveined
2 tablespoons dry sherry
Freshly ground black pepper
Directions
Heat a large pot over medium-high heat. Add the vegetable oil.  Season the chicken with salt, then add to the pot in batches to brown, 5 minutes per side. Transfer to the plate.
Make the roux: Remove the pot from the heat and cool slightly (there should be about 1/4 cup dripping; drain or add oil as needed). Return the pot to medium heat. Sprinkle in the flour and stir, scraping up the browned bits from the pan with a wooden spoon. Continue to cook, stirring, until the mixture smells nutty and turns a deep brown, 10 to 12 minutes. Add the celery, onion, bell pepper, garlic, cayenne, tomato paste and salt to taste. Cook, stirring, until the vegetables are tender, 6 to 8 minutes.
Whisk in the broth. Return the chicken  to the pot and simmer until the chicken is cooked through, about 25 minutes. Transfer the chicken to a plate and let cool slightly while the stew simmers; remove the skin and shred the meat. Return the meat to the pot. Stir in the shrimp and sherry and cook until the shrimp turn pink, 2 to 3 more minutes. Season with salt and black pepper.  Serve on top of rice and garnish with fresh parsley.
*Serves 8
Category: chicken, main dish, Various Cooking Styles
Johnna French is a Harlem NY native with deep roots in Panama, Washington, DC and North Carolina. All four places have heavily influenced her life and the foods she loves today. After graduating Howard University School of Law and beginning her life as a young professional in the city she was led to start Johnna Knows Good Food in November 2007 to keep family, friends and colleagues updated on where to go and what to eat while dining in the nation's capitol. French, who still practices law, leads a team of three writers to cover the ever expanding Washington, DC food scene. French has been featured in print and television, appearing in Washingtonian Magazine and is a regular contributor to various local TV affiliates including WUSA 9, FOX 5 DC and WJLA (ABC Affiliate) News Channel 8. During the 2016-2017 football season, Johnna aired on Comcast Sports Mid-Atlantic (CSN) show, Redskins Life, as the weekly tailgate host. Johnna is currently a regular contributor to the FOX Baltimore Weekend morning show.
---