There are many days I want to make my way over to Best Buy and purchase the pasta attachments for my KitchenAid and then reality sets in: my schedule won't allow me to make homemade pasta to validate my spending close to $200 for all of the extra attachments.  Unfortunately, but fortunately, I have taken this opportunity to explore other ways of getting my pasta fix.  One of those explorations landed on my doorstep about a week ago in the form of Buitoni pasta.  After receiving two coupons to try the products, I went to my less than desirable Giant (*less than desirable because it had none of the products I was attempting to try…and this is usually the case) and I picked up the Buitoni Braised Beef & Sausage Ravioli and the Butioni Shrimp & Lobster Ravioli.
Needless to say my hopes were not up for frozen lobster so I opted to begin with the Braised Beef & Sausage.  Easy.  That is the best way to describe these Buitoni products. Literally, you open the box and there are two bags in there: one filled with the ravioli and the other filled with the sauce.  With my schedule the way it is, I am loving easy.
I simply plopped that packet of sauce in a pot of boiling water.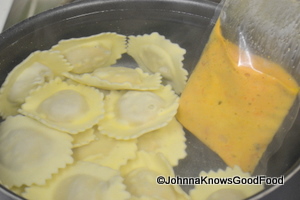 Added the ravioli and drained it.
Combine the sauce and pasta. Now it was time to taste test which I can admit I was little hesitant to do considering the simplicity of the frozen goods.  *Wide eye look* This was actually pretty good.  Full of flavor from the beef and sausage which was rather juicy once cooked down within the ravioli.  The sauce was tomato based with a hint of cream which I would have preferred they left out and simply let the beef, sausage and tomato work together.
Feeling optimistic, I moved onto the lobster & shrimp ravioli.  My initial thoughts told me I would not enjoy the processed artificial lobster and the garlic butter sauce would help to mask the rubbery texture.  I've been wrong about many things and this was one of those times.
The reverse actually happened in this situation where the lobster was actually real and tasted like it. The sauce could have been a tad thinner, but the garlic saved it when combined with the butter flavor.
I think Buitoni's on to something with these new dinners.  They're easy and they definitely use products that can sustain the freezer burn. Overall, I liked the products I tried, and now Buitoni has two new additions to their line of frozen meals, the Chicken Florentina and the Chicken Mushroom Risotto.
Giveaway Details:  Share a recipe that you think would be a great pairing for the new products (salad, soup, side dish or appetizer) for a chance to win a pair of coupons for two (2) complimentary Buitoni Frozen Meals for Two by November 27, 2011.  Simply leave a comment below, Tweet me @jknowsgoodfood or shoot me an email at johnna@johnnaknowsgoodfood.com with your idea and you're automatically entered to win the prize. Good luck!
Category: Announcements, Food.Fun.Stuff., Product Review
Johnna French is a Harlem NY native with deep roots in Panama, Washington, DC and North Carolina. All four places have heavily influenced her life and the foods she loves today. After graduating Howard University School of Law and beginning her life as a young professional in the city she was led to start Johnna Knows Good Food in November 2007 to keep family, friends and colleagues updated on where to go and what to eat while dining in the nation's capitol. French, who still practices law, leads a team of three writers to cover the ever expanding Washington, DC food scene. French has been featured in print and television, appearing in Washingtonian Magazine and is a regular contributor to various local TV affiliates including WUSA 9, FOX 5 DC and WJLA (ABC Affiliate) News Channel 8. During the 2016-2017 football season, Johnna aired on Comcast Sports Mid-Atlantic (CSN) show, Redskins Life, as the weekly tailgate host. Johnna is currently a regular contributor to the FOX Baltimore Weekend morning show.
---