For years I thought I was the slow cooker queen, but I stand corrected.  Anyone who can devote not only a full cookbook to not only the crock pot but to a particular cuisine should officially hold the title.  That's where Anupy Singla comes in with her slow cooker cookbook, The Indian Slow Cooker, focusing on Indian cuisine.  Lucky for me, I had the opportunity to sneak in a few minutes with the acclaimed author who has garnered rave reviews from the likes of the Chicago Tribune, the Chicago Sun-Times and is the #1 bestselling Indian cookbook on Amazon.com.  During her ongoing book tour, Anupy will make her way to Baltimore's WMAR-ABC and Richmond's Sur La Table on the weekend of May 13 to discuss how the slow cooker keeps food moist (*which allows cooks to use far less oil and saturated fat than in traditional Indian fare).  Before she hits the road, I was able to pick her brain on kitchen mishaps, cookbook writing tips and fave dishes: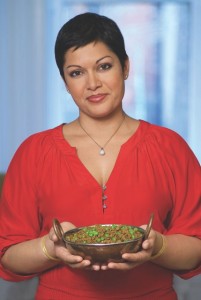 JKGF: How long have you been cooking? Any formal training?
Anupy: My first cooking lesson was given to me by my paternal grandfather visiting from India. I was 10. My mother – a progressive take on the typical South Asian housewife — never really encouraged me to be in the kitchen. Instead, she encouraged me to get out of the kitchen and study…do Tae Kwon Do…and other sports. So cooking wasn't immediately my first activity of choice. But, after that first lesson from my grandfather, I was absolutely hooked. He taught me how to make Punjabi-style eggplant and potatoes – spicy and authentic to our region of India. His passion is what I carry with me today with my own cooking. I haven't had formal training. My training comes from watching them do it in India – the old, traditional ways.
JKGF:  What is the longest you have ever worked without a break in the kitchen? Is that what inspired you to start working more closely with your slow cooker?
Anupy: My inspiration with the slow cooker comes from my mother – who was introduced to this type of cooking in the 70s.  A co-worker introduced her to it and then she modified it to make Indian dishes that we ate on a daily basis. Part of the inspiration for me to continue with the slow cooker method are my two young girls. They are wonderfully spirited and would never allow me to linger in the kitchen for the hours and hours that I did before the girls were born.
JKGF:  What is the most memorable mishap/disaster that you have had in the kitchen?
Anupy: My most memorable mishap was when I was teaching a class in Chicago and teaching them how easy it is to make Papard (a flattened lentil patty that's crisped over an open flame). It not only caught fire, but I almost lit myself on fire as I waved it to put it out. Now I know to drop anything that catches fire onto the floor and stomp on it immediately.
JKGF:  What is your absolute favorite dish to cook?
Anupy: My favorite dish to cook is likely Palak Paneer – pureed spinach with homemade cheese. Most non-Indians don't realize how incredibly easy this dish is to make. And it tastes delicious. I take pride in the fact that it's one of my daughters' favorite dishes – AND it's spinach – not common for eight and six year olds.
JKGF:  What advice would you give to cooks/chefs who want their own cookbooks?
Anupy: My advice to anyone who wants to write a book: Write every day but remember that getting a publisher interested in you means also creating a platform for yourself. No longer are publishers doing all the marketing for authors. You need to be prepared to do much of it yourself. If you can show a publisher that you are not only ready to do this but are also already out there garnering an audience through your blog or articles – you'll have an easier time being taken on by a publisher. Also, consider a smaller publisher. I decided to forego trying to get into the bigger houses on my first book and was very happy with Agate Surrey and how hands-on they have been with my project from the beginning. They've been through the process with me every step of the way. Never have I felt like I was navigating the unknown alone.
JKGF:  Do you think it is necessary to have formal training to be a reliable source in the food industry?
Anupy: I don't think it's necessary to have formal training in anything that you do – as long as you're willing and prepared to then work harder than anyone else. My first reporting gig was working for Bloomberg News without a journalism school degree. But man, did it take a toll on me. I essentially learned on the job. Thus, I never frown upon getting the training if you can afford to do so: meaning time and money. At this point in my career, however, what I offer are tools to help the everyday home chef feed themselves healthy, delicious foods and be a point person for caretakers trying to give their children good, healthy food choices. One day maybe I'll go for the formal training but for now I'm content to hone my skills as an approachable home chef who knows how to break down cooking steps and explain them because I also have this learning curve and because my training as a reporter makes me – in essence – a great teacher. I do admire all of the chefs that I come across that have such wonderful credentials as well – and watch them and learn from them as well. I also have been humbled to see that not once have those I've encountered with these credentials ever put me down or made me feel slighted because of my background.
Lastly, I want to add that what I bring to the table is an easy way to understand Indian food from a personality that truly has had one foot here and one in India from the moment my family settled in Pennsylvania. I was three when we moved here from India but spent most summers and school vacations visiting India. I think it's this unique blend of having grown up global BUT also in a largely blue-collar community outside of Philadelphia that makes me supremely confident to pitch Indian food not only to the masses but to communities in America that traditionally may not consider Indian food as an option for themselves. I don't see Indian food as exotic or foreign. I think it's becoming a part of the American culinary diaspora and we in the Indian food space in America need to finally embrace this phenomena.
*You can check out Anupy Singla's cookbook, The Indian Slow Cooker, by purchasing @ Amazon.  Anupy will be appearing May 13 on Baltimore's WMAR-ABC at 9:30am. She will also be leading a class at the Richmond, VA Sur La Table (sign up link here).
Category: Crock Pot, cultural cooking, Food.Fun.Stuff., Various Cooking Styles
Johnna French is a Harlem NY native with deep roots in Panama, Washington, DC and North Carolina. All four places have heavily influenced her life and the foods she loves today. After graduating Howard University School of Law and beginning her life as a young professional in the city she was led to start Johnna Knows Good Food in November 2007 to keep family, friends and colleagues updated on where to go and what to eat while dining in the nation's capitol. French, who still practices law, leads a team of three writers to cover the ever expanding Washington, DC food scene. French has been featured in print and television, appearing in Washingtonian Magazine and is a regular contributor to various local TV affiliates including WUSA 9, FOX 5 DC and WJLA (ABC Affiliate) News Channel 8. During the 2016-2017 football season, Johnna aired on Comcast Sports Mid-Atlantic (CSN) show, Redskins Life, as the weekly tailgate host. Johnna is currently a regular contributor to the FOX Baltimore Weekend morning show.
---