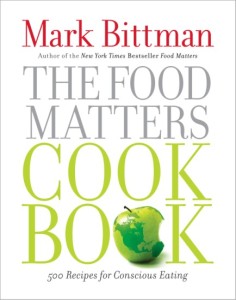 Want to expand your knowledge of healthier eating?  The impact of healthier foods on the planet and you??  Well I have the tickets to an event that will help you on your journey toward discovery.  Mark Bittman, the New York Times food columnist, will be visiting Sixth & I on October 5th to speak about his new cookbook, The Food Matters Cookbook: 500 Revolutionary Recipes for Better Living.  Simply email johnnaknowsgoodfood@gmail.com and a winner will be randomly selected on September 27, 2010 (midnight).
The Where:  Sixth & I – 600 I St. NW (Gallery Pl-Chinatown Metro Station)
The When:  October 5, 2010 @ 7 pm
The Money:  FREE if you win the giveaway…otherwise, $12 per person or receive two FREE tickets with the purchase of the book ($35)
Category: Announcements, Food.Fun.Stuff., Washington D.C.
Johnna French is a Harlem NY native with deep roots in Panama, Washington, DC and North Carolina. All four places have heavily influenced her life and the foods she loves today. After graduating Howard University School of Law and beginning her life as a young professional in the city she was led to start Johnna Knows Good Food in November 2007 to keep family, friends and colleagues updated on where to go and what to eat while dining in the nation's capitol. French, who still practices law, leads a team of three writers to cover the ever expanding Washington, DC food scene. French has been featured in print and television, appearing in Washingtonian Magazine and is a regular contributor to various local TV affiliates including WUSA 9, FOX 5 DC and WJLA (ABC Affiliate) News Channel 8. During the 2016-2017 football season, Johnna aired on Comcast Sports Mid-Atlantic (CSN) show, Redskins Life, as the weekly tailgate host. Johnna is currently a regular contributor to the FOX Baltimore Weekend morning show.
---