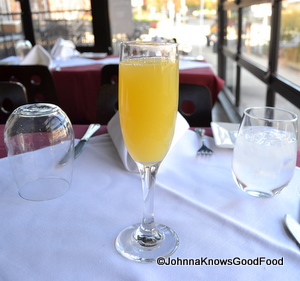 Last week, I shared my personal list of Saturday brunches, this week I bring to you my personal list of unlimited mimosa spots.  For those that love the free flow of champagne or Bloody Mary's during brunch, this list should be printed out and tapped to the fridge.  Again, if you have any suggestions simply comment below or shoot me an email at johnna@johnnaknowsgoodfood.com. Cheers!
Madhatter: Brunch menu ranges from $5.95 to $12.95; unlimited Mimosas/Bloody Mary's for $7.
Ping Pong Dim Sum: Unlimited dim sum from 11 am-4 pm.  $45 for adults and $22.50 for children (12 and under).
Agora: Endless Brunch menu, Bottomless Rail Cocktails (*Mimosas, Bloody Mary's and Champagne also offered), available Saturday & Sunday from 11 am-3 pm.  $29.95 per person.
Masa 14: Saturday and Sunday Brunch from 11 am-3 pm. Unlimited Prix Fixe Brunch for $35 (*Includes bottomless Mimosa's, Bloody Mary's and Bellini's).
The Bombay Club: Sunday Brunch offered from 11:30 am-2:30 pm; $27.95 for buffet spread of Indian cuisine and unlimited champagne pours during meal.
Brunch without Borders at Cuba Libre: Saturday and Sunday from 11:30 am-2 pm unlimited brunch for $25 and unlimited drinks for $10 extra.
Black's Bar & Kitchen: Unlimited Sunday brunch buffet from 11 am-2:30 pm for $33; champagne brunch with unlimited pours is $45.
Ardeo & Bardeo: Unlimited Sunday brunch; 2-course brunch with bottomless champagne for $25.
Smith Commons: Saturday brunch menu ranges from $4-$15; bottomless Mimosa's/Bloody Mary's $14.
Beacon Bar & Grill: Bottomless mimosa/Bloody Mary/Champagne brunch for $26 on Sunday's.
M Street Bar & Grill: Bottomless mimosa/Bloody Mary/Champagne brunch for $24.95 on Sunday's.
Creme Cafe & Lounge: Bottomless Mimosa's/Bloody Marys for $15 during Saturday and Sunday brunch.
Red Rocks: Bottomless mimosa's for $9 during Sunday Brunch.
Category: Announcements, Food.Fun.Stuff., Washington D.C.
Johnna French is a Harlem NY native with deep roots in Panama, Washington, DC and North Carolina. All four places have heavily influenced her life and the foods she loves today. After graduating Howard University School of Law and beginning her life as a young professional in the city she was led to start Johnna Knows Good Food in November 2007 to keep family, friends and colleagues updated on where to go and what to eat while dining in the nation's capitol. French, who still practices law, leads a team of three writers to cover the ever expanding Washington, DC food scene. French has been featured in print and television, appearing in Washingtonian Magazine and is a regular contributor to various local TV affiliates including WUSA 9, FOX 5 DC and WJLA (ABC Affiliate) News Channel 8. During the 2016-2017 football season, Johnna aired on Comcast Sports Mid-Atlantic (CSN) show, Redskins Life, as the weekly tailgate host. Johnna is currently a regular contributor to the FOX Baltimore Weekend morning show.
---