In the kitchen again!  And this time, I took pictures (*pretty good if I say so myself).  Being a food blogger is more than just cooking and eating…it's actually visualizing, knowing the right lighting and the perfect camera to buy and the list goes on and on.  Needless to say when I started Johnna Knows Good Food three years ago, I did not know this would be the equivalent of a full-time, part-time job.  I love every minute of it. 
Below is my attack back to the kitchen while also creating my version of the Julie and Julia bruschetta recipe that will hopefully make the cut on Endless Simmer's 100 Ways to Use a Tomato (*fingers crossed):
16 oz. heirloom tomatoes (*can be found at your local farmers market when in season; I purchased mines from Spring Valley Farm)
1- 24″ French baguette bread (*cut into 1″ slices)
Kosher Salt
Fresh Ground Pepper
1 tbsp. chopped garlic
1 garlic clove (*peeled and halved)
1/4 cup fresh basil (*chopped)
Truffle Olive Oil (*Suggested:  Olevano Truffle Infused Extra Virgin Olive Oil)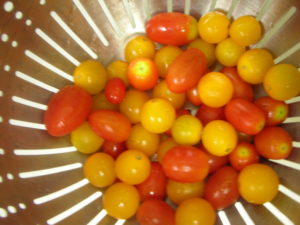 Rinse tomatoes.
Cut all the tomatoes in half.
Chop up the basil.
Toss the tomatoes with the chopped basil, about 2 tbsp. of the truffle olive oil, salt and pepper (*to taste). Set aside.
In a skillet, add the chopped garlic clove and about 2 tbsp. olive oil.  If you need additional olive oil to coat the pan, feel free to add.
Add the sliced french bread to the pan and brown on both sides.
Once browned, rub each side of the bread with the halved garlic cloves.
Spoon on tomato mixture…
And Enjoy!
*Johnna's tip:  Unless you and your guests are prepared to eat the bruschetta immediately, I suggest keeping the tomato mixture seperate from the bread because it will become soggy.  Serve the tomato mixture in one bowl and the bread on another serving platter. Be prepared to get a little messy!
Category: appetizers, finger-foods, vegetarian
Johnna French is a Harlem NY native with deep roots in Panama, Washington, DC and North Carolina. All four places have heavily influenced her life and the foods she loves today. After graduating Howard University School of Law and beginning her life as a young professional in the city she was led to start Johnna Knows Good Food in November 2007 to keep family, friends and colleagues updated on where to go and what to eat while dining in the nation's capitol. French, who still practices law, leads a team of three writers to cover the ever expanding Washington, DC food scene. French has been featured in print and television, appearing in Washingtonian Magazine and is a regular contributor to various local TV affiliates including WUSA 9, FOX 5 DC and WJLA (ABC Affiliate) News Channel 8. During the 2016-2017 football season, Johnna aired on Comcast Sports Mid-Atlantic (CSN) show, Redskins Life, as the weekly tailgate host. Johnna is currently a regular contributor to the FOX Baltimore Weekend morning show.
---